Amguema
Reference work entry
DOI:
https://doi.org/
10.1007/978-3-319-24237-8_10
(1)

A river flowing into the Chukchi Sea, Chukotka Autonomous District, Russia. The length is about 500 km; the basin area is 28,100 km2. Originating in Chukchi Plateau, it flows mostly in a wide waterlogged valley. In the upper areas it is stepped. Average duty of water in lower reaches is 276 m3/s, the flow is 9.3 km3. Average annual water turbidity is up to 75 g/m3. There are many lakes in the Amguema's basin area. The origin of the river's name is purely Chukchi. The most precise spelling of the name was presented by N. Daurkin, the participant of I. Billings' expedition at the end of the eighteenth century. Afterward the cartographers accepted a slightly distorted spelling proposed by I. Billings, that is, "Amguema," derived from the word "amguyan." This is the variant that can be seen on modern maps.

 

(2)

A lagoon to the south-east of Tankargynpilgyn Lagoon that is linked to it by a dry creek. The lagoon is separated from the Chukchi Sea by a mixed sand and shingle spit called "Kosa Dvukh Pilotov." It still keeps many old barrels and bricks that have remained from the former settlement Takokagyn. The Amguema River flows into the top of the lagoon forming a forked delta. The lagoon is connected to the sea by a passage 3,6 km wide. Most of it presents huge drying sand shoals. At the extremity of the spit the depth is 7–13 m.

 

(3)

A settlement in Chukotka Autonomous District, Russia, on the right bank of the river of the same name with the population of about 600 people. Reindeer breeding is developed. People observe traditional patterns of life.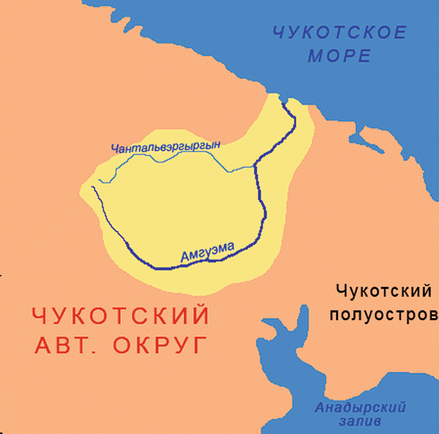 Copyright information
© Springer International Publishing Switzerland 2016