Abstract
Cosmetic psychodermatology is a new science that studies the psychological aspects of cosmetic patients. The complex relationship between mind and skin is the focus of study of psychodermatology and must be understood by cosmetic dermatologists. The patient's mental status, expectations, background, and the possible presence of psychiatric comorbidities should be recognized and addressed prior to cosmetic procedures to obtain the best results. Cosmetic dermatologists must be trained to evaluate the psychological aspects of their patients. This chapter provides concepts of psychodermatology and its association to cosmetic dermatology, the common psychiatric disorders that can be seen in dermatology and advices to establish a good doctor-patient relationship.
Keywords
Cosmetic psychodermatology 
Psychodermatology 
Cosmetic procedures 
Dermatologic procedures 
Psychiatric disorders 
Doctor-patient relationship 
Patient's expectations 
Difficult patients 
Referring patients 
Introduction
Psychodermatology is an integrative science that studies the interaction between skin and mind. The study of this complex cycle, in which mind and skin are linked and influencing each other, has expanded in the recent decades (França et al. 2013). This increasing interest, the recent advances in psychodermatology and the economic growth and, thereby growing interest in cosmetic procedures have led to the creation of a new science called "cosmetic psychodermatology ." According to França, this new science was created to understand the psychological aspects, emotions, and expectations of patients seeking cosmetic procedures (França 2016).
Epidemiological studies have shown that many patients with psychiatric conditions never receive appropriate treatment (Narrow et al. 1993; Kessler et al. 1999; Zimmerman et al. 2005). Thereby, in modern medicine, cosmetic psychodermatologists must be trained to deal with the psychological aspects of their patients. This involves learning skills to conduct a basic psychological evaluation to know the patient's expectations, recent experience with procedures and outcomes, as well as the creation of an appropriate doctor-patient relationship , as the keystone for a good doctor-patient interaction (Goold and Lipkin 1999; França et al. 2015).
This chapter will discuss the concept of cosmetic psychodermatology and its application in modern medicine, the psychological aspects of dermatologic patients, including the most common psychiatric disorders, the patient's expectation, how to deal with the difficult patient, and the importance of a good doctor-patient relationship.
Worldwide the demand for cosmetic procedures has expanded in the last decades (Sacchidanand and Bhat 2012). More and more patients are seeking esthetic procedures every year. In consequence, cosmetic dermatologists must develop skills to understand this diverse population. Even though adult females still account for the majority of patients seeking cosmetic therapy, dermatologists should be prepared to deal with patients of any sex or age as the interest for cosmetic procedures among young patients and males is increasing rapidly (França 2016). The increasing interest combined with an improved affordability and income of the population has driven the awareness for cosmetic procedures. There are several reason that may lead a patient to seek cosmetic procedures, and these include personal desire (embarrassment, vanity), society influence, and also psychiatric and psychodermatological disorders (Šitum and Buljan 2010; Sacchidanand and Bhat 2012).
Dermatologists that will perform a cosmetic procedure must consider the magnitude of the psychological aspect of the patient. There is a well-established relationship between mind and skin that must be taken into account (França 2016). Physicians should perform a psychological evaluation prior to the cosmetic procedure to identify those patients that will not benefit from the procedure. A thorough evaluation to explore the patient's mental status, false expectations, doubts, and previous experiences will help the physician to recognize psychiatric disorders that will interfere with the procedure and that might worsen the patient's condition. Thereby, basic knowledge about common psychodermatological disorders such as obsessive-compulsive disorders and body dysmorphic disorder is very useful for all physicians (Jafferany 2007). The dermatologist must provide clear information about possible outcomes and complications of esthetic procedures to avoid false expectations. This will increase satisfaction and prevent medicolegal complications.
Cosmetic Psychodermatology: A New Science
The scientific community has set a lot of interest on the interaction between mind and skin in the last decades. Psychodermatology was created to address the overwhelming evidence of the relationship between psychiatric conditions and dermatologic disorders. Physicians have placed special interest in developing this field of medicine combining concepts of dermatology and psychiatry (Koo 1995; França et al. 2013). Psychiatry focuses in the internal factors (psychic), while dermatology focuses in the external factors (the skin) (Jafferany 2007; Rodríguez et al. 2011; França et al. 2013). The complex interaction between mind and skin comes from their ectodermal origin and helps to explain the high incidence rates (30–60 %) of psychiatric disorders among these patients (Basavaraj et al. 2010).
In the last two decades, great scientific effort has been done to expand our knowledge about psychodermatology (França 2016). Recent advances in treatment combined with the increasing interest of patients in cosmetic treatment have driven concern about psychiatric disorder and its effects in dermatologic patients. More scientific information is being published every year about this specialty, increasing awareness among physicians (Jafferany and França 2016). Aspects such as mental evaluation, psychotherapy, and pharmacotherapy are of special interest, and close work between dermatologists and psychiatrists has been useful in the treatment of psychocutaneous disorders (Basavaraj et al. 2010).
The growing interest for cosmetic procedures and the new advances in psychodermatology have led to the development of a field named cosmetic psychodermatology (Sacchidanand and Bhat
2012
; França
2016
). According to França, this new subspecialty of psychodermatology originated from the combination of cosmetic dermatology and psychodermatology. Cosmetic psychodermatology involves the study of the social and psychological features of patients, their cultural background, expectations and experiences with previous cosmetic procedures, and the effects that these procedures produce on their lives (França
2016
). In modern medicine, cosmetic dermatologists must be trained to provide a basic psychological evaluation and recognize psychiatric conditions in patients seeking cosmetic pro cedures (Scheme
1
).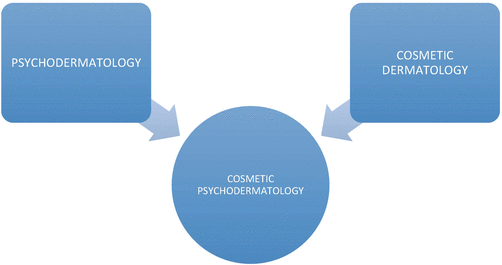 Knowing the Patient
Cosmetic dermatologists must know how important is to individualizing care for patients seeking esthetic procedures. These groups of patients are particularly seeking highest results. Thus, a good dermatologist must consider each patient's background and personality, emphasizing the patient's expectations, doubts, preferences, and goals to optimize care. Each patient must be treated with empathy and confidence in order to create a good doctor-patient relationship (França 2016). A pleasant conversation and a good relationship will allow an appropriate environment to gather the information needed to make a complete medical history. Personal, familiar, and psychological history must be collected carefully as many factors play a role on how the patient will respond to the procedure.
A dermatologist should have the ability to conduct a basic psychological evaluation. This evaluation will give an overview of the patient's mental status and will allow the physician to resolve the patient's doubts and fears about the procedure. Expectations, either real or false, negatively affect the outcomes of the procedure and need to be addressed immediately (Bowling et al. 2012). This is done by thoroughly evaluating the patient's concerns, beliefs, cultural backgrounds, and experiences with previous procedures during the interview (Jhon 1992; Bowling et al. 2012). If false expectations are present, the dermatologist must clearly explain why they are unrealistic and provide accurate information about the procedure, real outcomes, and complications (França et al. 2014). Finally, doctors must remember the importance of the doctor-patient relationship spending enough time to ensure the patent's welfare and understanding.
Common Psychiatric Disorders in Dermatology
Psychiatric disorders are relatively common disorders that can affect people of any age, culture, and income levels (França et al. 2014). They are defined as clinically significant behaviors or psychological patterns that cause distress and impair normal functioning (Stein et al. 2010; França et al. 2014).
Among the common psychiatric disorders found in the dermatologic practice, there is body dysmorphic disorder (Conrado 2009). Dermatologists should be trained to recognized this disorder prior to cosmetic procedures and promptly refer the patient for expert evaluation. Other common psychiatric conditions seen in practice are obsessive-compulsive disorder, anxiety, personality disorders, and eating disorders (Jafferany 2007). All of them will disrupt the patient's overview about the procedure, and thus, these patients must be treated by a multidisciplinary group involving the dermatologist, psychiatrist, and psychodermatologist.
The Patient and the Physician
Conclusions
The interest for psychodermatology and the new science cosmetic psychodermatology is rapidly growing. Several researches are being developed to better understand cosmetic patients. These patients are particular, they are looking to correct or improve their appearance rather than cure a medical illness, and many psychological and external factors influence how they perceive their psychical defects. Also, a number of psychiatric disorders have shown to be more common in the dermatologic and cosmetic practice than general medical practice. In such cases dermatologists must work closely with a physician with expertise in mental health care to provide the best care and avoid unnecessary and harmful cosmetic procedures.
The dermatologist must be trained to explore the psychological aspects of patients seeking cosmetic procedures, beginning with a pleasant and trustful conversation with the patient, devoting time to carefully listen to the patient's motivations, concerns, expectations, cultural backgrounds, and previous experiences with cosmetic procedures. Accordingly, dermatologist should not only be trained to perform the most accurate and safe cosmetic procedure, but to see each patient as unique, with its own fears and concerns, looking to be treated as a human being. This will create a good doctor-patient relationship, which is essential for the best medical practice and to achieve full satisfaction.
Take Home Messages
1.

Cosmetic psychodermatology is a new science created to study the relationship of psychiatric conditions on patients seeking cosmetic procedures.

 

2.

Cosmetic dermatologists must be trained to perform a brief psychological evaluation prior to cosmetic procedures in order to recognize psychiatric disorders in this diverse population.

 

3.

The prevalence of psychiatric disorders is high in the dermatologic practice. Among them, body dysmorphic disorders are one of the most common disorders, and dermatologists must promptly recognize and refer these patients for appropriate treatment.

 

4.

The doctor-patient relationship is the keystone of the general medical practice. Dermatologists must be trained to establish a good relationship when facing difficult patients. Prompt referral to a psychiatrist or psychodermatologist is essential for psychiatric patients.

 

5.

A psychodermatologist must be part of the cosmetic medical practice. They will provide adequate treatment for patients seeking cosmetic procedures with psychiatric disorders.

 
Copyright information
© Springer International Publishing AG 2016