Abstract
Barbiturates were originally introduced as sedative-hypnotics and anticonvulsants in the early 1900s. Secondary to the frequency of their prescription and illicit use, unintentional/intentional overdoses and the ensuing toxicities became commonplace. Barbiturates are hazardous and have the highest risk of morbidity and mortality among all sedative-hypnotics [1]. The use of newer, relatively less-toxic medications (such as benzodiazepines) has largely supplanted the routine use of barbiturates. As a result, the incidence of serious toxicity related to barbiturate use has declined. Nevertheless, barbiturates are occasionally used today. Examples include phenobarbital and butalbital, which currently are prescribed for seizure disorders and migraine headaches, respectively [2]. Phenobarbital is also often employed to treat moderate-to-severe γ-aminobutyric acid (GABA)-agonist withdrawal [3]. Primidone, used as an anticonvulsant and in management of GABA-agonist withdrawal, is metabolized to phenobarbital [4]. Barbiturates such as methohexital are used for induction of anesthesia, and pentobarbital is commonly relied on for control of intracranial pressure and status epilepticus in intensive care units [5, 6]. Barbiturates are sometimes used as adjunctive therapy for neonatal hyperbilirubinemia [7]. Illicit drug use also may involve barbiturates because of their high abuse potential. These agents have also been employed in self-harm gestures, particularly in those populations with access to these medications, such as healthcare and veterinary workers. Consequently, clinicians must be aware of the potential toxicities due to accidental or intentional ingestions of barbiturates and remain astute as to the potential addictive properties of barbiturates, with the attendant risk for tolerance and abstinence-induced withdrawal. Finally, secondary to their potent clinical effects, these agents have been employed in criminal poisonings and suicide attempts. [8, 9]
Keywords
Barbiturate

Sedative

Hypnotic

Seizure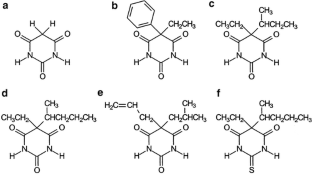 References
Baltarowich L. Barbiturates. Top Emerg Med. 1985;7:46–53.

Mclean W, Boucher EA, Brennan M, et al. Is there an indication for the use of barbiturate-containing analgesic agents in the treatment of pain? Guidelines for their safe use and withdrawal management. Can J Clin Pharmacol. 2000;7:91–6.

Rosenson J, Clements C, Simon B, Vieaux J, Graffman S, Vahidnia F, Cisse B, Lam J, Alter H. Phenobarbital for acute alcohol withdrawal: a prospective randomized double-blind placebo-controlled study. J Emerg Med. 2013;44(3):592–8. e2.

Wallace KL, Morkunas AR. Commonly abused prescription sedative-hypnotic drugs. Top Emerg Med. 1997;19:27–33.

Lund N, Papadakos P. Barbiturates, neuroleptics, and propofol for sedation. Crit Care Clin. 1995;11:876–8.

Lerman B, Yoshida D, Levitt MA. A prospective evaluation of the safety and efficacy of methohexital in the emergency department. Am J Emerg Med. 1996;14:351–4.

Sancak R, Kucukoduk S, Tasdemir HA, Belet N. Exchange transfusion treatment in newborn with phenobarbital intoxication. Pediatr Emerg Care. 1999;15:268–9.

Cordell WH, Curry SC, Furbee RB, Mitchell-Flynn DL. Veterinary euthanasia drugs as suicide agents. Ann Emerg Med. 1986;15(8):939–43.

Cantrell FL, Nordt S, McIntyre I, Schneir A. Death on the doorstep of a border community – intentional self-poisoning with veterinary pentobarbital. Clin Toxicol (Phila). 2010;48(8):849–50.

Osborn HH. Sedative-hypnotic agents. In: Goldfrank LR, Flomenbaum N, Lewin N, et al., editors. Goldfrank's toxicologic emergencies. 6th ed. Stamford: Appleton & Lange; 1998. p. 1001–14.

Haddad LM, Winchester JF. Barbiturates. In: Haddad LM, Shannon MW, Winchester JF, editors. Clinical management of poisoning and drug overdose. 3rd ed. Philadelphia: WB Saunders; 1998. p. 521–7.

Roberts DM, Buckley NA. Enhanced elimination in acute barbiturate poisoning – a systematic review. Clin Toxicol (Phila). 2011;49(1):2–12.

Hobbs WR, Rall TW, Verdoon TA. Hypnotics and sedatives: barbiturates. In: Hardman JG, Limbird LE, et al., editors. Goodman and Gilman's the pharmacological basis of therapeutics. 9th ed. San Francisco: McGraw-Hill; 1996. p. 373–80.

Mehta AK, Ticku MK. An update on GABA-A receptors. Brain Res Rev. 1999;29:204–5.

Curry SC, Mills KC, Graeme KA. Neurotransmitters. In: Goldfrank LR, Flomenbaum N, Lewin N, et al., editors. Goldfrank's toxicologic emergencies. 6th ed. Stamford: Appleton & Lange; 1998. p. 155–7.

Coupey SM. Barbiturates. Pediatr Rev. 1997;18:260–4.

Lindberg MC, Cunningham A, Lindberg NH. Acute phenobarbital intoxication. South Med J. 1992;85:803–6.

Tobias JD. Tolerance, withdrawal, and physical dependency after long-term sedation and analgesia of children in the pediatric intensive care unit. Crit Care Med. 2000;28:2130–1.

Knowles SR, Shapiro LE, Shear NH. Anticonvulsant hypersensitivity syndrome. Drug Saf. 1999;21:489–99.

Nordt SP. Butalbital cross-reactivity to an Emit assay for phenobarbital. Ann Pharmacother. 1997;31:254–5.

Goldberg MJ, Berlinger WG. Treatment of phenobarbital overdose with activated charcoal. JAMA. 1982;247:2400–1.

Amitai Y, Degani Y. Treatment of phenobarbital poisoning with multiple dose activated charcoal in an infant. J Emerg Med. 1989;8:449–50.

Mohammed Ebid AH, Abdel-Rahman HM. Pharmacokinetics of phenobarbital during certain enhanced elimination modalities to evaluate their clinical efficacy in management of drug overdose. Ther Drug Monit. 2001;23(3):209–16.

Palmer BF. Effectiveness of hemodialysis in the extracorporeal therapy of phenobarbital overdose. Am J Kidney Dis. 2000;36:640–3.

Lal R, Faiz S, Garg RK, Baweja KS, Guntupalli J, Finkel KW. Use of continuous venovenous hemodiafiltration in a case of severe phenobarbital poisoning. Am J Kidney Dis. 2006;48(2):e13–15.

van de Plas A, Stolk L, Verhoeven MA, Kooman JP, van Mook WN. Successful treatment of acute phenobarbital intoxication by hemodiafiltration. Clin Toxicol (Phila). 2006;44(1):93–4.

Hoyland K, Hoy M, Austin R, Wildman M. Successful use of haemodialysis to treat phenobarbital overdose. BMJ Case Rep. 2013;21:2013.

Gupta A, Waldhauser LK. Adverse drug reactions from birth to early childhood. Pediatr Clin North Am. 1997;44:79–82.

Seip M. Growth retardation, dysmorphic facies and minor malformations following massive exposure to phenobarbitone in utero. Acta Paediatr Scand. 1976;65:617–21.

Foldvary N. Treatment issues for women with epilepsy. Neurol Clin. 2001;19:409–25.

Briggs GG, Freeman RK, Yaffe SJ. Drugs in pregnancy and lactation. 6th ed. Philadelphia: Lippincott Williams & Wilkins; 2002. p. 1097–105.

Zahn CA, Morrell MJ, Collins SD, et al. Management issues for women with epilepsy: a review of the literature. Neurology. 1998;51:949–56.

Kirk M, Pace S. Pearls, pitfalls and updates in toxicology. Emerg Med Clin North Am. 1997;15:427–49.

Kompoliti K, Goetz CG. Neuropharmacology in the elderly. Neurol Clin. 1998;16:599–610.

Bernus I, Dickinson RG, Hooper WD, Eadie MJ. Anticonvulsant therapy in the aged patient: clinical pharmacokinetic considerations. Drugs Aging. 1997;10:278–89.

Lelièvre B, et al. Two case-reports of intoxication with T61®, a mixture used in veterinary medicine. Toxicologie Analytique et Clinique. 2014;26(2):S24.

Mactier R, Laliberté M, Mardini J, Ghannoum M, Lavergne V, Gosselin S, Hoffman RS, Nolin TD, EXTRIP Workgroup. Extracorporeal treatment for barbiturate poisoning: recommendations from the EXTRIP Workgroup. Am J Kidney Dis. 2014;64(3):347–58.
Grading System for Levels of Evidence Supporting Recommendations in Critical Care Toxicology, 2nd Edition
I

Evidence obtained from at least one properly randomized controlled trial.

II-1

Evidence obtained from well-designed controlled trials without randomization.

II-2

Evidence obtained from well-designed cohort or case–control analytic studies, preferably from more than one center or research group.

II-3

Evidence obtained from multiple time series with or without the intervention. Dramatic results in uncontrolled experiments (such as the results of the introduction of penicillin treatment in the 1940s) could also be regarded as this type of evidence.

III

Opinions of respected authorities, based on clinical experience, descriptive studies and case reports, or reports of expert committees.
Copyright information
© 2017 Springer International Publishing AG
About this entry
Cite this entry
Walsh, S.J., Katz, K.D. (2017). Barbiturates. In: , et al. Critical Care Toxicology. Springer, Cham. https://doi.org/10.1007/978-3-319-17900-1_13
DOI: https://doi.org/10.1007/978-3-319-17900-1_13

Published:

Publisher Name: Springer, Cham

Print ISBN: 978-3-319-17899-8

Online ISBN: 978-3-319-17900-1