Challenge-Based Learning in a Serious Global Game
Definition
Challenge-based learning offers a call to action that inherently requires learners to make something happen. In a serious game context learners often work in teams in a digital game-based platform to research their topic, brainstorm strategies and solutions that are both credible and realistic in light of time and resources, and then develop and execute a solution that addresses the challenge in ways both they themselves and others can see and measure. Teams often compete with each other for high scoring solutions, recognition, and rewards. For example, a business might offer an "X-Prize" for a solution needed for driverless cars. Challenge-based learning can thus be seen as a way to incentivize crowd-sourced ideation and solutions.
Introduction
The term challenge-based learning arose in the USA early in the twenty-first century with the support of innovative technology groups such as Apple Education, the New Media Consortium, The Society for Information Technology and Teacher Education, and the US Department of Education Office of Educational Technology. Unique applications supporting challenge-based learning in higher education are now arising, supported by a cloud-based mobile technology platform that can be used for bridging informal to formal learning, recruiting students into university, reaching larger numbers of people with game-based approaches, envisioning student engagement in work-integrated learning, and assisting students to acquire evidence of attainment of graduate capabilities such as leadership, critical thinking, creativity, communication skills, and experience in international team collaboration (Gibson et al. forthcoming, 2018a, b).
State of the Art Work
Challenge-based learning is a teaching model that incorporates aspects of collaborative problem-based learning, project-based learning, and contextual teaching and learning while focusing on current real-world problems (Johnson et al. 2009). In particular, online global learning challenges engage students' curiosity and desire to learn by making central the solving of open-ended problems as a member of a self-organizing and self-directing international team (Harris and Nolte 2007). When delivered as a mobile learning experience, challenges can integrate twenty-first-century tools, require collaboration, and assist students in managing their time and work schedules, while effectively scaling to large numbers of students. Set in the environment of a friendly serious game competition where people experience elements such as automated feedback, points, leader boards, badges, and leveling up for rewards, challenge-based learning increases motivation toward high performance (Gibson and Grasso 2007). Research on challenge-based learning is beginning to show impacts such as increased engagement, increased time working on tasks, creative application of technology, and increased satisfaction with learning (Johnson et al. forthcoming, 2018; Roselli and Brophy 2006).
Similar to problem-based and project-based learning, and borrowing liberally from those well-established approaches (see Gibson et al. 2011) and the Buck Institute for Education (www.bie.org), the additional structure of global relevance, international collaboration, and team-based competition leads to a unique objective, expressed well in a recent report by the New Media Consortium (Johnson et al. 2009).
Design and Implementation Roles
The design method for the future of challenge-based digital learning experiences is a team-based effort of people knowledgeable in subject matter, dramatic narrative, mechanics of game-like interactions and rewards, digital-media artists and communicators, and computational science tools for algorithms and visualizations (Gibson et al. 2007). The mission of such interdisciplinary teams when creating challenge-based learning experiences is to create a symbolic space for transmedia narrative (Passalacqua and Pianzola 2011) to be introduced as well as to evolve through the participatory culture (Jenkins et al. 2006) shared by those who take up the challenge.
Instructors have a special role in constructing a problem space with key ideas, essential questions, resources, and evaluation criteria. In the challenge-based learning framework, instructors are designers of the digital-learning experience who put in most of their time in up front and then take a backseat during the implementation while individuals and teams are learning, working, communicating, creating, and submitting artifacts. Subject matter experts (SMEs) in a discipline work with a digital-media team and game-creation team to engineer the learning experience. Most of the input from subject-matter-expert authors is gathered during the design phase and is embedded into the digital experience through public scoring rubrics, artifact descriptions for final submission, and scaffolding activities, which the team members can choose to experience or ignore. A new structure of teaching, created via collaborations among SMEs working with learning-experience designers and technical teams, is arising as an innovation to create new structures of teaching and learning in response to the myriad changes taking place in higher education today (Grummon 2010).
Show Case
At Curtin University, in Perth Australia, a "Challenge platform" online toolkit has been developed to assist with authoring and delivering challenge-based individual and team learning at scale (Fig.
1
). The platform can be compared to a game-engine marketplace with a common API for learning outcomes across the various learning experiences. Individual challenges include learning about oneself as a leader or exploring a career and team challenges available in "Balance of the Planet" including solving one or more of the UN Sustainable Development Goals (Fig.
2
).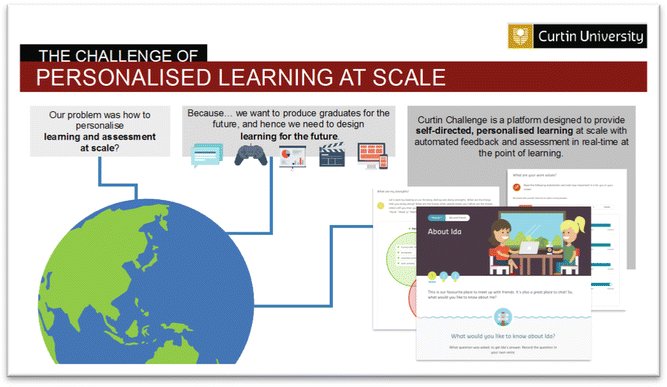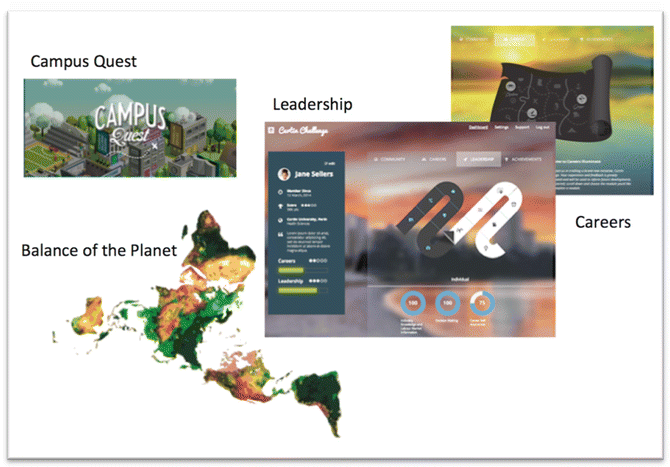 The platform roadmap includes features that support individual- and team-based learning in a serious game context:
Self-organizing teams

Self-determined paths of action

Transparent milestones for seeing progress

Self-scoring and peer scoring of artifacts

Expert scoring for awards and recognition

Openness to external mentors and advisors helping solve problems

Automated feedback on progress

24-7 access

Support tools for chatting, coproduction, and automated messaging

Administrative dashboard for research data and monitoring
Copyright information
© Springer International Publishing AG 2018