Keywords
Tourism Resource 
Urban Tourism 
Destination Image 
Apprentice Training 
Break Tourism 
These keywords were added by machine and not by the authors. This process is experimental and the keywords may be updated as the learning algorithm improves.
Algeria (2,381,741 km
2
or 919,595 mi
2
) borders the Mediterranean Sea between
Morocco
and
Tunisia
as well as Western Sahara,
Mauritania
,
Mali
,
Niger
, and
Libya
. It is the largest country in
Africa
(Figure
1
). The population of 38,813,722 (2014) is primarily one Arab-Berber ethnic group (99 %). The country has three main languages, Arabic (official), French (lingua franca), and Tamazight (Kabylie Berber), as well as other Berber languages such as Tachawit, Mozabit, and Tamahaq.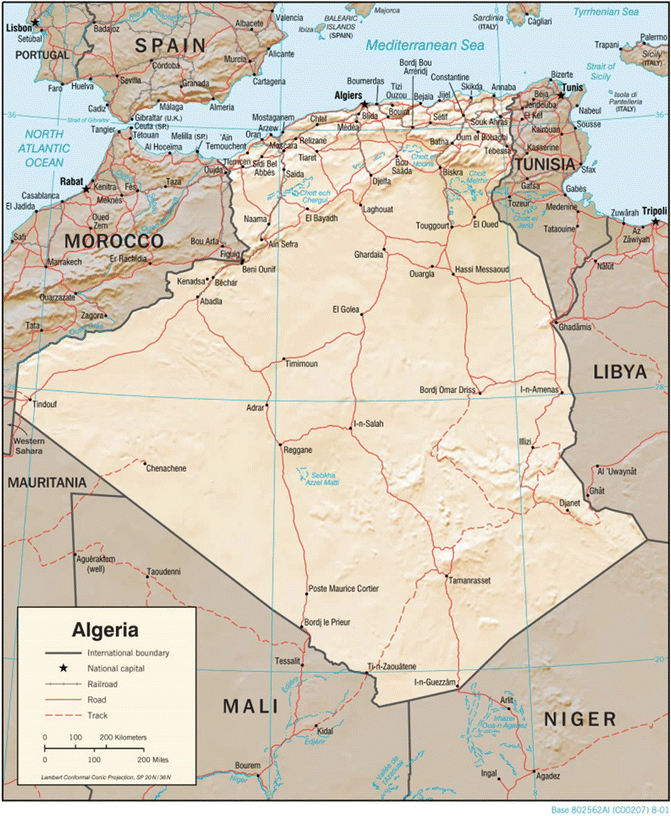 Algeria's economy is heavily dependent on oil accounting for roughly 60 % of budget revenues, 30 % of GDP, and over 95 % of export earnings. Algeria's economy remains dominated by the state, a legacy of the country's socialist post-independence development model with heavy regulation and an emphasis on state-driven growth.
Algeria's tourism resources include its remarkable Grand Sud (Sahara Desert), cultural heritage, oases, architecture, and Mediterranean coastline. Tourism has been recently identified by the government as a means to stimulating economic development and, particularly, beneficial in reducing youth unemployment. There were 2,732,731 arrivals in 2013 (two-thirds leisure, one-third business), of which some 65 % were Algerian nationals living abroad (Ministère du Tourisme et de l'Artisanat 2014). The main foreign market is neighboring Tunisia with half a million arrivals, followed by the ex-colonizer France (115,000 tourists) and Spain (34,000 tourists). The fastest market increase in 2012/2013 was Turkey (40 %) with 14,500 and Morocco (26 %) with 27,000 tourists despite the closure of the border between these two countries (Lanquar 2012; WTTC 2013).
The government's recent efforts to promote tourism include the elaboration of the Schéma Directeur d'Aménagement Touristique or tourism masterplan published in 2008, improvement of the tourism information system in 2013, preparation of the Plan Qualité Tourisme Algérie or tourism quality plan in 2013, introduction of an apprentice training program for cooks in 2014, and the structuring and reorganization of the Office National Algérien du Tourisme or national tourism organization and of the Agence Nationale de Développement du Tourisme or national tourism development agency.
Three national hotel and tourism schools are located in Tizi Ouzou, Bou Saada, and Algiers. The challenge to improving the quality of tourism education is the establishment of a recognized postgraduate university curriculum. This would support initiating product development based upon solid market intelligence and research.
The Algerian tourism industry is currently facing major and diverse challenges. The main ones include improvement of destination image and of customer service delivery, privatization of hotels, sector competitiveness, and, above all with regard to international tourists, improved visa facilitation and land border crossing. The country's capital city, Algiers, is at only 2-h flight away from many major European cities. This is a promising issue for future research on city break tourism.
References
Lanquar, R. 2012 L'Etat du Tourisme des pays MED 11 à la mi-2012. Diplomatie et Développement Durable (unpublished document).

Google Scholar

Ministère du Tourisme et de l

'

Artisanat

2014 Synthèse des Flux Touristiques en Algérie Année 2013 (unpublished document).

Google Scholar

WTTC 2013 Travel and Tourism Economic Impact 2013: Algeria. London : World Travel and Tourism Council.

Google Scholar
Copyright information
© Springer International Publishing Switzerland 2014