Algeria, tourism
Living reference work entry
DOI:
https://doi.org/
10.1007/978-3-319-01669-6_640-1
Algeria (2,381,741 km
2
or 919,595 mi
2
) borders the Mediterranean Sea between
Morocco
and
Tunisia
as well as Western Sahara,
Mauritania
,
Mali
,
Niger
, and
Libya
. It is the largest country in
Africa
(Figure
1
). The population of 38,813,722 (2014) is primarily one Arab-Berber ethnic group (99 %). The country has three main languages, Arabic (official), French (lingua franca), and Tamazight (Kabylie Berber), as well as other Berber languages such as Tachawit, Mozabit, and Tamahaq.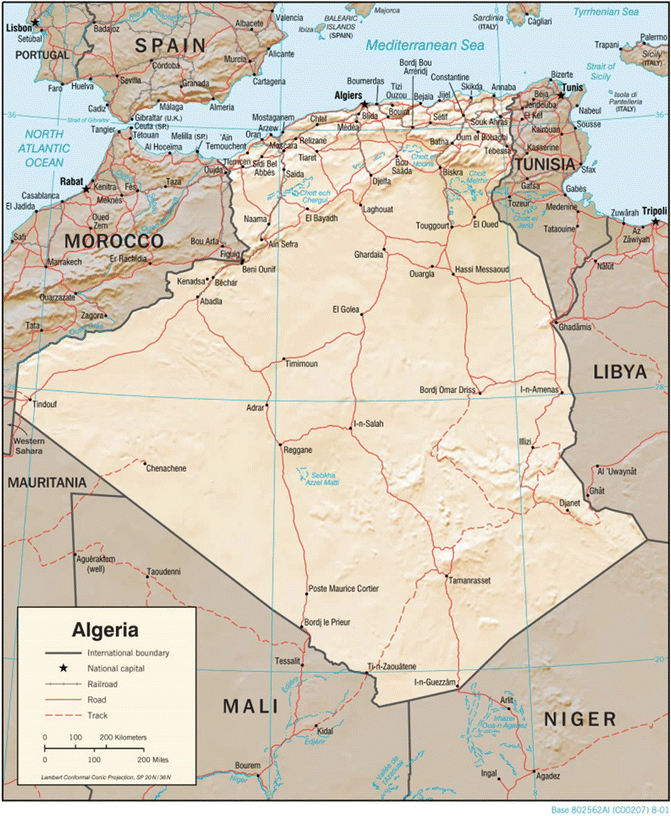 Keywords
Tourism Resource 
Urban Tourism 
Destination Image 
Apprentice Training 
Break Tourism 
These keywords were added by machine and not by the authors. This process is experimental and the keywords may be updated as the learning algorithm improves.
References
Lanquar, R. 2012 L'Etat du Tourisme des pays MED 11 à la mi-2012. Diplomatie et Développement Durable (unpublished document).

Google Scholar

Ministère du Tourisme et de l

'

Artisanat

2014 Synthèse des Flux Touristiques en Algérie Année 2013 (unpublished document).

Google Scholar

WTTC 2013 Travel and Tourism Economic Impact 2013: Algeria. London : World Travel and Tourism Council.

Google Scholar
Copyright information
© Springer International Publishing Switzerland 2014