Albania, Tourism
Living reference work entry
DOI:
https://doi.org/
10.1007/978-3-319-01669-6_506-1
Keywords
World Heritage 
Tourism Development 
Total Employment 
Informal Economy 
World Heritage Site 
These keywords were added by machine and not by the authors. This process is experimental and the keywords may be updated as the learning algorithm improves.
Republic of Albania is located on the Balkan Peninsula in Southeast
Europe
(Figure
1
). It is the 139th largest country in the world (28,748 km
2
or 11,100 mi
2
) and has a population of 2.9 million. It held its first democratic multiparty elections in 1991 and is a potential candidate for European Union accession following the Thessaloniki European Council of 2003. While its economy is growing, the country remains one of the poorest in Europe, with a considerable informal economy and a lack of infrastructure.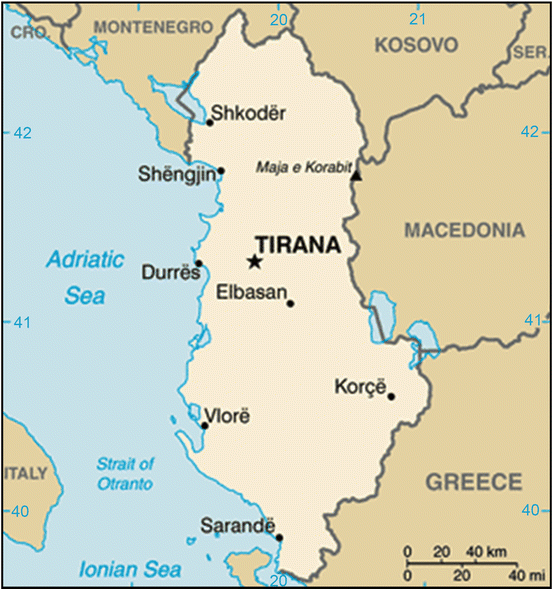 Albania has a diverse population and cultural heritage. The area was controlled by the Byzantine Roman until the seventh century Slavic migrations, followed by the Bulgarian Empire in the ninth century and subsequently by the Serbian Empire until the fourteenth century. The Ottomans controlled most of Albania from 1431 to 1912, when the country was declared an independent state. It was occupied by Fascist Italy and then by Nazi Germany during World War II and, after its liberation, the country became a Communist state until the collapse of the Eastern Bloc. As a legacy of this history, the country has a significant cultural and archaeological heritage, including UNESCO World Heritage sites.
Tourism data are poor. While there is a significant potential, currently tourist numbers are low and mainly from neighboring countries (INSTAT 2014). The offering is disorganized and services must be improved. Lonely Planet ranked the country as the number one destination to visit in 2011. Climate, unspoiled amenities, strategic location in the Mediterranean, and a variety of territories are considered as the main strengths (Messina 2013), while attracting more tourist flows and increasing tourism employment are the main opportunities.
In 2007, the government instituted tourism laws and formulated a development strategy (MoTCYS 2007a, b). The European University for Tourism was established in 2008, and the Ministry of Urban Development and Tourism recently issued its 2014–2020 strategy for tourism development. Stakeholder and government interest and investment in tourism are growing and, thanks to the availability of more European Union funds, the industry appears to have a bright future. In 2013, direct contribution of Albanian tourism to GDP was 4.8 %, while the total was 16.7 % (WTTC 2014). The industry directly supported 41,000 jobs (4.3 % of total employment) and in total supported 146,500 jobs (or 15.2 % of total employment). Issues for future research should concentrate on policies and on human resources as key factors for tourism development.
Copyright information
© Springer International Publishing Switzerland 2015