Definition
Structured light refers to spatially nonuniform, structured or patterned light, as opposed to uniform or diffuse light that is uniformly or quasi-uniformly distributed in space.
Structured-light imaging refers to a technique that projects light with a known spatial pattern onto a scene and the light intensity would be attenuated by absorption and scattering of objects and the light pattern would be deformed by surface curvature of objects, thereby allowing imaging systems to acquire information on the optical property and surface geometry of these objects.
Introduction
The use of light for imaging agricultural materials or processes has achieved significant progress over the past four decades. Imaging techniques that rely on the light in...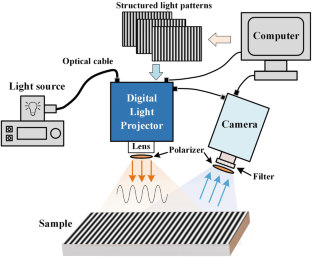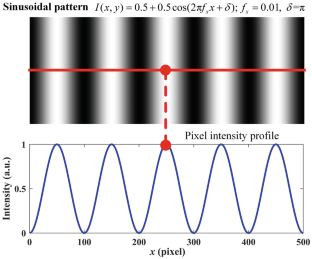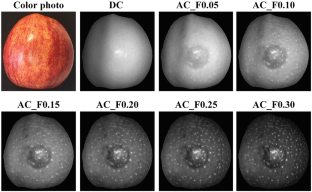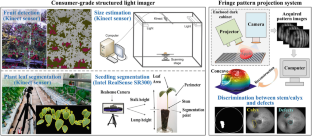 References
Anderson ER, Vo-Dinh T, Cuccia DJ, Grundfest WS, Benaron DA, Durkin AJ, Cohn GE, Raghavachari R (2007) Detection of bruises on golden delicious apples using spatial-frequency-domain imaging. Proc SPIE 6430, Advanced Biomedical and Clinical Diagnostic Systems V, 64301O

Cuccia DJ, Bevilacqua FP, Durkin AJ, Ayers FR, Tromberg BJ (2009) Quantitation and mapping of tissue optical properties using modulated imaging. J Biomed Opt 14(2):024012

Dognitz N, Wagnieres G (1998) Determination of tissue optical properties by steady-state spatial frequency-domain reflectometry. Lasers Med Sci 13:55–65

Fu L, Gao F, Wu J, Li R, Karkee M, Zhang Q (2020) Application of consumer RGB-D cameras for fruit detection and localization in field: a critical review. Comput Electron Agric 177:105687

Ghiglia DC, Pritt MD (1998) Two-dimensional phase unwrapping: theory, algorithms, and software. Wiley, New York

Gustafsson MGL (2000) Surpassing the lateral resolution limit by a factor of two using structured illumination microscopy. J Microsc 198(2):82–87

He X, Fu X, Rao X, Fu F (2017) Nondestructive determination of optical properties of a pear using spatial frequency domain imaging combined with phase-measuring profilometry. Appl Opt 56(29):8207–8215

Hu D, Lu R, Ying Y (2020) Spatial-frequency domain imaging coupled with frequency optimization for estimating optical properties of two-layered food and agricultural products. J Food Eng 277:109909

Li J, Lu Y, Lu R (2023) Detection of early decay in navel oranges by structured-illumination reflectance imaging combined with image enhancement and segmentation. Postharvest Biol Technol 196:112162

Lu Y, Lu R (2017) Development of a multispectral structured illumination reflectance imaging (SIRI) system and its application to bruise detection of apples. Trans ASABE 60(4):1379–1389

Lu Y, Lu R (2018a) Fast bi-dimensional empirical mode decomposition as an image enhancement technique for fruit defect detection. Comput Electron Agric 152:314–323

Lu Y, Lu R (2018b) Structured-illumination reflectance imaging coupled with phase analysis techniques for surface profiling of apples. J Food Eng 232:11–20

Lu Y, Lu R (2018c) Detection of surface and subsurface defects of apples using structured-illumination reflectance imaging with machine learning algorithms. Trans ASABE 61(6):1831–1842

Lu Y, Lu R (2019) Structured-illumination reflectance imaging for the detection of defects in fruit: analysis of resolution, contrast and depth-resolving features. Biosyst Eng 180:1–15

Lu Y, Li R, Lu R (2016a) Fast demodulation of pattern images by spiral phase transform in structured-illumination reflectance imaging for detection of bruises in apples. Comput Electron Agric 127:652–658

Lu Y, Li R, Lu R (2016b) Gram–Schmidt orthonormalization for retrieval of amplitude images under sinusoidal patterns of illumination. Appl Opt 55(25):6866–6873

Lu R, Van Beers R, Saeys W, Li C, Cen H (2020) Measurement of optical properties of fruits and vegetables: a review. Postharvest Biol Technol 159:111003

Lu Y, Lu R, Zhang Z (2021) Detection of subsurface bruising in fresh pickling cucumbers using structured-illumination reflectance imaging. Postharvest Biol Technol 180:111624

Neil MAA, Juskaitis R, Wilson T (1997) Method of obtaining optical sectioning by using structured light in a conventional microscope. Opt Lett 22(24):1905–1907

Sun Y, Lu R, Lu Y, Tu K, Pan L (2019) Detection of early decay in peaches by structured-illumination reflectance imaging. Postharvest Biol Technol 151:68–78

Sun Z, Xie L, Hu D, Ying Y (2021) An artificial neural network model for accurate and efficient optical property mapping from spatial-frequency domain images. Comput Electron Agric 188:106340

Syed TN, Liu J, Zhou X, Zhao S, Yuan Y, Mohamed SHA, Lakhiar IA (2019) Seedling-lump integrated non-destructive monitoring for automatic transplanting with Intel RealSense depth camera. Artif Intell Agric 3:18–32

Wang W, Li C (2014) Size estimation of sweet onions using consumer-grade RGB-depth sensor. J Food Eng 142:153–162

Xia C, Wang L, Chung BK, Lee JM (2015) In situ 3D segmentation of individual plant leaves using a RGB-D camera for agricultural automation. Sensors 15(8):20463–20479

Zhang S (2018) High-speed 3D shape measurement with structured light methods: a review. Opt Lasers Eng 106:119–131
Section Editor information
Copyright information
© 2023 Springer Nature Switzerland AG
About this entry
Cite this entry
Lu, Y., Cai, J. (2023). Structured-Light Imaging. In: Zhang, Q. (eds) Encyclopedia of Smart Agriculture Technologies. Springer, Cham. https://doi.org/10.1007/978-3-030-89123-7_166-1
DOI: https://doi.org/10.1007/978-3-030-89123-7_166-1

Received:

Accepted:

Published:

Publisher Name: Springer, Cham

Print ISBN: 978-3-030-89123-7

Online ISBN: 978-3-030-89123-7

eBook Packages: Springer Reference Biomedicine & Life SciencesReference Module Biomedical and Life Sciences