Definition
While it is clear that "coalition lobbying" is a frequently used influence strategy in political advocacy, the practices lying behind this term are diverse, complex, and cross-cutting. The term masks a variety of meanings, all of which highlight important collective dimensions in attempts by lobbyists to affect policy. It can refer to sets of actors with: (1) common preferences or goals, (2) coordinated activities, such as information exchange, strategy coordination, and concerted signaling of policy positions, as well as actors with (3) shared organizational structures, such as formally named coalitions or umbrella organizations.
This chapter reviews different conceptions of lobbying coalitions in inside and outside lobbying, drawing on seminal and recent research in the field. It addresses the question of which actors are potential coalition partners and/or targets of coalition action. Moreover, it summarizes accounts of why coalitions form, how they are composed and...
Keywords
Advocacy coalitions

Active cooperation

Information exchange

Strategy cooperation

Signaling

Umbrella organizations

Networks

Coalition formation

Strange bedfellows

Lobbying success

Influence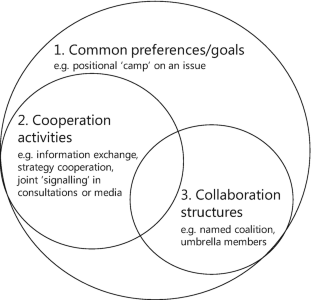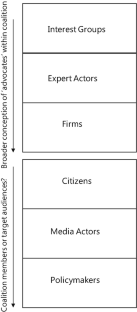 References
Beyers, J., & Braun, C. (2014). Ties that count: Explaining interest group access to policymakers. Journal of Public Policy, 34(01), 93–121.

Beyers, J., & De Bruycker, I. (2018). Lobbying makes (strange) bedfellows: Explaining the formation and composition of lobbying coalitions in EU legislative politics. Political Studies, 66(4), 959–984.

Box-Steffensmeier, J. M., Christenson, D. P., & Hitt, M. P. (2013). Quality over quantity: Amici influence and judicial decision making. American Political Science Review, 107(3), 446–460.

Bunea, A. (2013). Issues, preferences and ties: Determinants of interest groups' preference attainment in the EU environmental policy. Journal of European Public Policy, 20(4), 552–570.

Hanegraaff, M., & Pritoni, A. (2019). United in fear: Interest group coalition formation as a weapon of the weak? European Union Politics, 20(2), 198–218.

Heaney, M. (2014). Multiplex networks and interest group influence reputation: An exponential random graph model. Social Networks, 36, 66–81.

Heaney, M., & Lorenz, G. M. (2013). Coalition portfolios and interest group influence over the policy process. Interest Groups & Advocacy, 2(3), 251–277.

Hojnacki, M. (1997). Interest groups' decisions to join alliances or work alone. American Journal of Political Science, 41(1), 61–87.

Holyoke, T. (2009). Interest group competition and coalition formation. American Journal of Political Science, 53(2), 360–375.

Hula, K. W. (1999). Lobbying together: Interest group coalitions in legislative politics. Washington, DC: Georgetown University Press.

Junk, W. M. (2019a). Co-operation as currency: How active coalitions affect lobbying success. Journal of European Public Policy, online first. https://doi.org/10.1080/13501763.2019.1631377

Junk, W. M. (2019b). Representation beyond people: Lobbying access of umbrella associations to legislatures and the media. Governance, 32(2), 313–330.

Junk, W. M. (2019c). When diversity works: The effects of coalition composition on the success of lobbying coalitions. American Journal of Political Science, 63(3), 660–674.

Klüver, H. (2013). Lobbying as a collective enterprise: Winners and losers of policy formulation in the European Union. Journal of European Public Policy, 20(1), 59–76.

Mahoney, C. (2007). Networking vs. allying: The decision of interest groups to join coalitions in the US and the EU. Journal of European Public Policy, 14(3), 366–383.

Mahoney, C., & Baumgartner, F. R. (2004). The determinants and effects of interest-group coalitions. Working Paper prepared for the Annual Meeting of the American Political Science Association, Chicago. Retrieved from: https://fbaum.unc.edu/papers/Mahoney_Baumgartner_APSA_2004_Coalitions.pdf

Nelson, D., & Yackee, S. W. (2012). Lobbying coalitions and government policy change: An analysis of Federal Agency Rulemaking. The Journal of Politics, 74(2), 339–353.

Phinney, R. (2017). Strange bedfellows: Interest group coalitions, diverse partners, and influence in American social policy. Cambridge, UK: Cambridge University Press.

Sabatier, P. A. (1988). An advocacy coalition framework of policy change and the role of policy-oriented learning therein. Policy Sciences, 21(2), 129–168.

Strolovitch, D. Z. (2014). Affirmative advocacy: Race, class, and gender in interest group politics. Chicago, MA: University of Chicago Press.
Further Reading
Heaney, M., & Leifeld, P. (2018). Contributions by interest groups to lobbying coalitions. Journal of Politics, 80(2), 494–509.

Sorurbakhsh, L. (2016). Interest group coalitions and lobbying environments: Toward a new theoretical perspective. Interest Groups & Advocacy, 5(3), 200–223.
Acknowledgments
This work was supported by Det Frie Forskningsråd: grant number Sapere Aude Grant 0602-02642B
Copyright information
© 2020 The Author(s), under exclusive licence to Springer Nature Switzerland AG
About this entry
Cite this entry
Junk, W.M. (2020). Lobbying Coalitions. In: The Palgrave Encyclopedia of Interest Groups, Lobbying and Public Affairs . Palgrave Macmillan, Cham. https://doi.org/10.1007/978-3-030-13895-0_33-1
DOI: https://doi.org/10.1007/978-3-030-13895-0_33-1

Received:

Accepted:

Published:

Publisher Name: Palgrave Macmillan, Cham

Print ISBN: 978-3-030-13895-0

Online ISBN: 978-3-030-13895-0

eBook Packages: Springer Reference Political Science & International StudiesReference Module Humanities and Social Sciences