Aneurysms
Reference work entry
DOI:
https://doi.org/
10.1007/978-1-60761-219-3_10
Definition
The largest artery in the body is the aorta, which takes blood from the heart and runs from the chest into the abdomen, lying against the spine until it reaches the pelvis. It divides at that point into iliac arteries that supply blood to the pelvis, buttocks, and legs (see Fig.
1
). Because the aorta takes the full force of blood ejected from the heart, it is the most likely artery in the body to weaken and expand to form an
aneurysm
.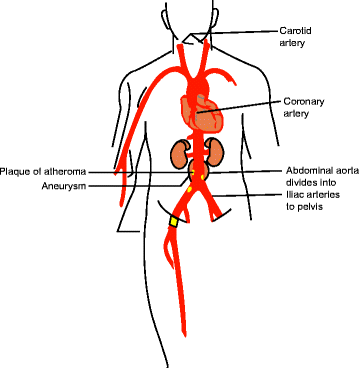 Bibliography
Case Studies
EVAR Trial Participants (2005) Endovascular aneurysm repair versus open repair in patients with abdominal aortic aneurysm (EVAR trial 1): randomized controlled trial. Lancet 365:2179–2186. EVAR

Google Scholar

The United Kingdom Small Aneurysm Trial Participants (2002) Long-term outcomes of immediate repair compared with surveillance of small abdominal aortic aneurysms. N Engl J Med 346:14, 45–52

Google Scholar
Copyright information
© Springer Science+Business Media LLC 2011