Glossary
HR:

Human resources

Organizational Chart:

A diagram representing the formal structure in the organization

ONA – Organizational Network Analysis:

The analysis of the organization which focuses on the relationship between the informal social network and the formal structures in the organization: organizational charts, process definitions, and others

OSN – Organizational Social Network:

An informal social network, which was created from the data collected within the organization like e-mail logs, phone call records, surveys, and others

MSN – Multilayered Social Network:

The social network which consists of multiple layers; each of them represents different type of information used as a source for creating the network layer

SNA:

Social network analysis
Definition
Although typical social network analysis (SNA) may bring interesting...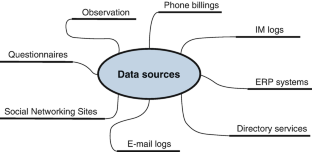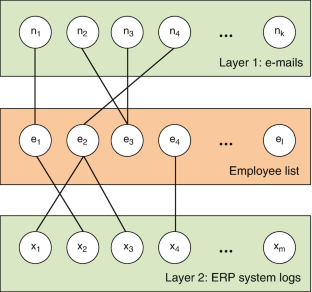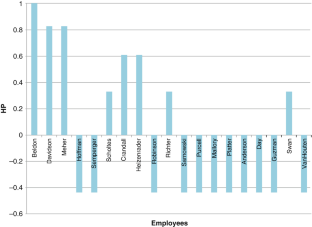 References
Borgatti SP, Molina JL (2003) Ethical and strategic issues in organizational social network analysis. J Appl Behav Sci 39(3):337–349

Daft RL (2009) Organization theory and design, 10th edn. Cengage Learning, Cincinnati

Diesner J, Frantz TL, Carley KM (2005) Communication networks from the Enron email corpus "It's always about the people. Enron is no different". Comput Math Organ Theory 11(3):201–228

Fire M, Puzis R (2016) Organization mining using online social networks. Netw Spatial Econ 16(2):545–578

Hossain L (2009) Effect of organizational position and network centrality on project coordination. Int J Proj Manag 27(7):680–689

Kazienko P, Musial K, Zgrzywa A (2009) Evaluation of node position based on email communication. Control Cybern 38(1):67–86

Kazienko P, Michalski R, Palus S (2011) Social network analysis as a tool for improving enterprise architecture. In: KES-AMSTA 2011, the 5th international KES symposium on agents and multi-agent systems – technologies and applications. Lecture notes in artificial intelligence, LNAI 6682. Springer, Berlin/Heidelberg, pp 651–660

Kendall MG, Gibbons JD (1990) Rank correlation methods, 5th edn. Edward Arnold, A Division of Hodder & Sloughton, London

Kleinberg JM (1999) Authoritative sources in a hyper-linked environment. J ACM 46(5):604–632

Klimt B, Yang Y (2004) Introducing the Enron corpus. In: CEAS 2004, 1st conference on email and anti-spam, Mountain View

Knoke D (2001) Changing organizations: business networks in the new political economy. Westview Press, Boulder

Michalski R, Palus S, Kazienko P (2011) Matching organizational structure and social network extracted from email communication. In: BIS 2011, 14th international conference on business information systems. Lecture notes in business information processing, LNBIP 87. Springer, Berlin/Heidelberg, pp 197–206

Palus S, Bródka P, Kazienko P (2010) How to analyze company using social network? In: WSKS 2010, the 3rd world summit on the knowledge society, Corfu, 22–24 Sept 2010. Communications in computer and information science, vol 111. Springer, Berlin/Heidelberg, pp 159–164

Rowe R, Creamer G, Hershkop S, Stolfo SJ (2007) Automated social hierarchy detection through email network analysis. In: Proceedings of the 9th WebKDD and 1st SNAKDD 2007 workshop on Web mining and social network analysis WebKDD/SNAKDD 2007. ACM, New York, pp 109–117

Scott J (2000) Social network analysis: a handbook, vol 3, no 5. Sage, Thousand Oaks, p 208

Shetty J, Adibi J (2004) Ex employee status report. http://www.isi.edu/~adibi/Enron/Enron_Employee_Status.xls

Song M, van der Aalst WMP (2008) Towards comprehensive support for organizational mining. Decis Support Syst 46(1):300–317

Tichy NM, Tushman ML, Fombrun C (1979) Social network analysis for organizations. Acad Manag Rev 4(4):507–519

Wasserman S, Faust K (1994) Social network analysis: methods and applications. Cambridge University Press, Cambridge
Acknowledgments
This work was partially supported by the National Science Centre, Poland, the decisions no. DEC-2016/21/B/ST6/01463 and 2015/17/D/ST6/04046.
Section Editor information
Copyright information
© 2018 Springer Science+Business Media LLC, part of Springer Nature
About this entry
Cite this entry
Michalski, R., Kazienko, P. (2018). Social Network Analysis in Organizational Structures Evaluation. In: Alhajj, R., Rokne, J. (eds) Encyclopedia of Social Network Analysis and Mining. Springer, New York, NY. https://doi.org/10.1007/978-1-4939-7131-2_277
DOI: https://doi.org/10.1007/978-1-4939-7131-2_277

Published:

Publisher Name: Springer, New York, NY

Print ISBN: 978-1-4939-7130-5

Online ISBN: 978-1-4939-7131-2