Definition
Geo raster data mainly represent measurements – such as satellite imagery – and simulations – such as weather forecasts – which technically represent gridded ("raster") data. Examples include 1-D sensor timeseries, 2-D x/y satellite imagery, 3-D x/y/ image time series (Fig. 1) and x/y/z geophysical voxel models, and 4-D x/y/z/t weather data. As sensors and computing capacity is increasing, it is getting increasingly inexpensive to obtain such data, and consequently there is a massive increase in both the volume acquired and the speed at which new data arrive. It is fair to say that geo raster data make up for the larger part of the Big Data challenge in the Earth sciences today, but also in geo engineering such as oil/gas/water exploration.
Keywords
Satellite Imagery

Geographic Information System

Coordinate Reference System

Spatial Data Infrastructure

Open GeoSpatial Consortium
These keywords were added by machine and not by the authors. This process is experimental and the keywords may be updated as the learning algorithm improves.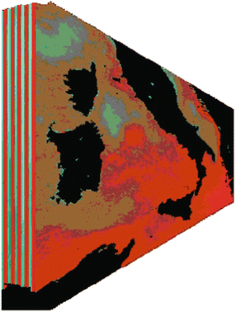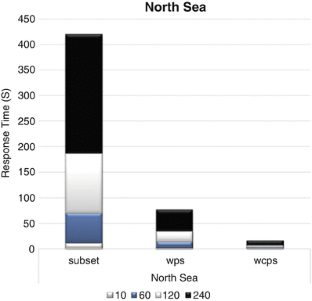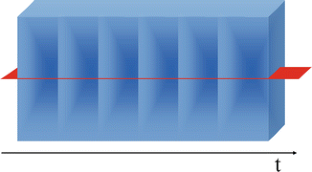 Recommended Reading
GeoNetwork. http://geonetwork-opensource.org/, seen on 8 Sep 2014.

OPeNDAP. http://www.opendap.org/, seen on 8 Sep 2014.

THREDDS. http://www.unidata.ucar.edu/software/thredds/current/tds, seen on 8 Sep 2014.

Taylor P. OGC WaterML Part 1: Timeseries, version 2.0. OGC document 10-126r4; 2014.

SciHadoop. https://systems.soe.ucsc.edu/node/517, seen on 8 Sep 2014.

Clements O, Walker P. Can EO afford big data – an assessment of the temporal and monetary costs of existing and emerging big data workflows. Vienna: EGU General Assembly; 2014. p. 12816.

Mennis J, Viger R, Tomlin CD. Cubic map algebra functions for spatio-temporal analysis. Cartography and Geographic Information Science. 2005;32(1):17–32.

Baumann P. OGC web coverage processing service (WCPS) language interface standard, version 1.0. OGC document 08-068r2; 2010.

Baumann P. The OGC web coverage processing service (WCPS) standard. Geoinformatica. 2010;14(4):447–79.

ISO. Geographic information – coverage geometry and functions. 19123:2005; 2005.

OGC. Topic 6 – Schema for coverage geometry and functions, version 7.0. OGC document 07-011; 2007.

Baumann P. OGC coverage implementation schema, version 1.1. OGC document 09-146r6; 2017.

Baumann P. Web coverage service (WCS) interface standard – core, version 1.0. OGC document 09-110r4; 2012.

Campalani P, Misev D, Beccati A, Baumann P. Making time just another axis in geospatial services. Proceedings of the 20th International Symposium on Temporal Representation and Reasoning (TIME'13); Sep 26–28; Pensacola; 2013. p. 133–40.

OGC standards. http://www.opengeospatial.org/standards/, seen on 8 Sep 2014.

ISO. Data elements and interchange formats: information interchange: representation of dates and times. 8601:2004(E); 2004.

Campalani P, Beccati A, Mantovani S, Baumann P. Temporal analysis of atmospheric data using open standards. Proceedings of the ISPRS Technical Commission IV Symposium; 2014 May 14–16, Suzhou, ISPRS Annals II(4); 2014. p. 21–7.

Baumann P, Feyzabadi S, Jucovschi C. Putting pixels in place: a storage layout language for scientific data. Proceedings of the IEEE ICDM Workshop on Spatial and Spatiotemporal Data Mining (SSTDM'10); Dec 14; Sydney; 2010. p. 194–201.

Dumitru A, Merticariu V, Baumann P. Exploring cloud opportunities from an array database perspective. Proceedings of the ACM SIGMOD Workshop on Data Analytics in the Cloud (DanaC'2014); June 22 – 27; Snowbird; 2014. p. 1–4.

PostGIS Raster. http://postgis.net/docs/RT_reference.html, seen on 8 Sep 2014.
Section Editor information
Copyright information
© 2017 Springer Science+Business Media LLC
About this entry
Cite this entry
Baumann, P. (2017). Geo Raster Data Management. In: Liu, L., Özsu, M. (eds) Encyclopedia of Database Systems. Springer, New York, NY. https://doi.org/10.1007/978-1-4899-7993-3_80815-1
DOI: https://doi.org/10.1007/978-1-4899-7993-3_80815-1

Received:

Accepted:

Published:

Publisher Name: Springer, New York, NY

Print ISBN: 978-1-4899-7993-3

Online ISBN: 978-1-4899-7993-3

eBook Packages: Springer Reference Computer SciencesReference Module Computer Science and Engineering