Evaluating Putative Chimeric Sequences from PCR-Amplified Products
Reference work entry
DOI:
https://doi.org/
10.1007/978-1-4899-7478-5_791
Introduction
The term chimera has its origins in the Greek mythology defining a creature composed of body parts from different living beings. In molecular biology, a chimeric sequence or chimera is a DNA sequence composed of DNA fragments originated from two or more genes or genomes.
Chimeric sequences can be naturally generated during DNA recombination which occurs naturally within a genome or by taking up foreign DNA by an organism. These processes of crossover recombination are of interest in phylogenetic and evolution studies and need to be identified (Posada and Crandall 2002). Nevertheless, chimeras represent a serious problem to be considered when they are generated as artifacts during DNA manipulation and/or analysis.
Chimeric artifacts can be produced at different stages during experimental DNA studies. Some examples can be described relating to cloning procedures, DNA amplification, and/or DNA assembling during computational analysis (Fig.
1
).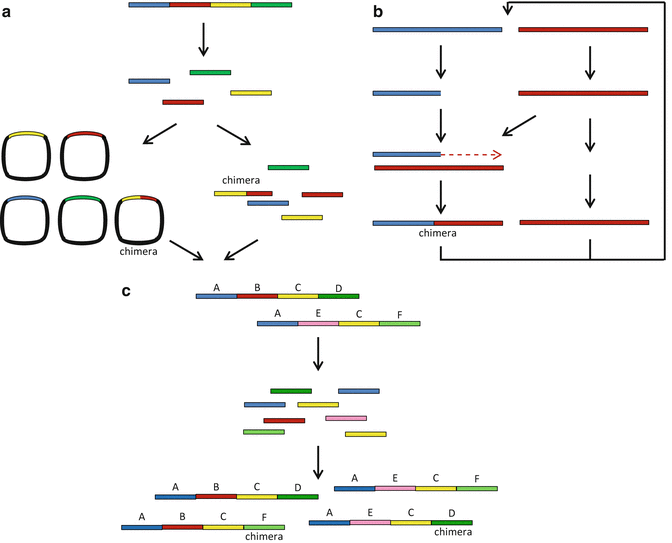 Notes
Acknowledgments
The author acknowledges funding from the Spanish Ministry of Economy and Competitiveness, project CONSOLIDER CSD2009-00006, which includes participation of Feder funds.
Copyright information
© Springer Science+Business Media New York 2015