Circumferential Depression
Living reference work entry
DOI:
https://doi.org/
10.1007/978-1-4614-9213-9_58-2
Definition
Moatlike depressions surrounding or flanking topographic heights at northern low latitudes of Mars.
Description
Flat-floored depressions located around isolated topographic remnants or alongside escarpments of plateaus (Hauber et al.
2008
) (Fig.
1a
). Their flat floors suggest that the material that once filled the depression (see
Formation
) was removed (Fig.
1b
).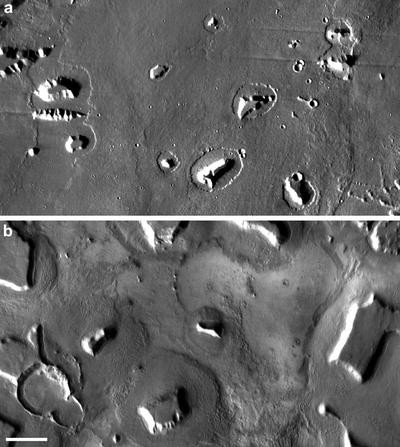 Keywords
Lava Flow 
Volcanic Belt 
Volcanic Field 
Flat Floor 
High Obliquity 
These keywords were added by machine and not by the authors. This process is experimental and the keywords may be updated as the learning algorithm improves.
Copyright information
© Springer Science+Business Media New York 2014