Chaotic Crater Floor (Mars)
Living reference work entry
DOI:
https://doi.org/
10.1007/978-1-4614-9213-9_44-1
Definition
Intracrater occurrence of chaotic terrain; a crater interior morphology.
Description
Knobs and irregular mesas that occur in groups or as isolated features (van Kan Parker et al.
2010
) inside martian craters (Figs.
1
,
2
,
3
, and
4
). Their extent is limited to (1) the inner margin of the crater rim or (2) a circular moat if no rim is present. Craters exhibiting chaotic floor are typical starting points of small and medium size
outflow channels
and occur in close proximity of chaotic terrains and
fractured floor craters
(Korteniemi et al.
2006
*). Some collapsed floor craters have no apparent outlets.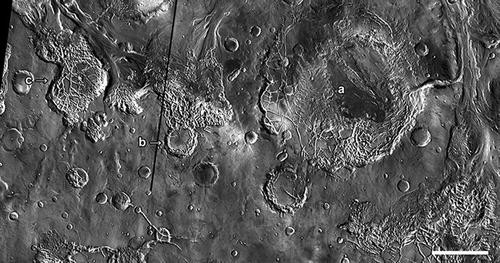 Keywords
Sediment Trap 
Central Plateau 
Crater Floor 
Collapse Crater 
Surface Drainage System 
These keywords were added by machine and not by the authors. This process is experimental and the keywords may be updated as the learning algorithm improves.
Copyright information
© Springer Science+Business Media New York 2014