Tholus (Mars)
Living reference work entry
DOI:
https://doi.org/
10.1007/978-1-4614-9213-9_372-1
Definition
Domical-shaped central vent shield volcano.
Description
Tholi on Mars are central vent volcanoes with well-defined summit calderas (BVSP
1981
) of up to 10 km in diameter and basal dimensions between 50 and 200 km and a height of 4–10 km (Plescia
2004
). They have relatively steep peripheral flanks. Most are asymmetric with a multi-stage caldera, which appear large compared to the edifice itself. Their flanks are often buried under surrounding plains of lava flows, so that their full dimensions are indeterminable (Werner
2009
). In structure they resemble
shield volcanoes
; some, such as Ceraunius Tholus, have numerous radial channel, and others show flow features (BVSP
1981
). Most have concentric grabens similar to the large
shield volcanoes
(BVSP
1981
). The distribution named tholi on Mars is shown in Fig.
1
.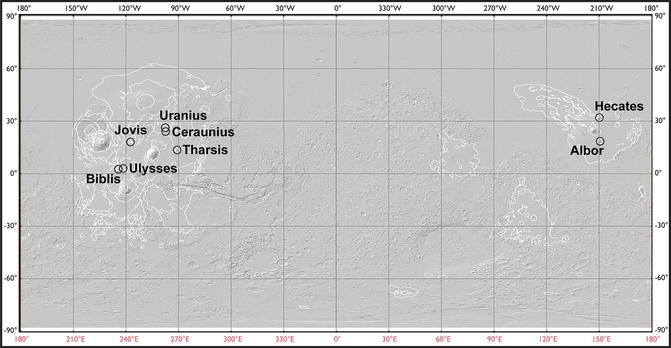 Keywords
Volcanic Activity 
Dust Storm 
Descriptor Term 
Volcanic Edifice 
Eruption Event 
These keywords were added by machine and not by the authors. This process is experimental and the keywords may be updated as the learning algorithm improves.
Copyright information
© Springer Science+Business Media New York 2014