Amphitheater-Headed Valley (Titan)
Living reference work entry
DOI:
https://doi.org/
10.1007/978-1-4614-9213-9_331-1
Keywords
Geological Timescale 
Consolidate Material 
Fluvial Erosion 
Incised Valley 
Florida Panhandle 
These keywords were added by machine and not by the authors. This process is experimental and the keywords may be updated as the learning algorithm improves.
Definition
Valley characterized by theater-shaped alcoves on Titan.
Description
Generally short and broad, deeply incised valley, which develops amphitheater-shaped heads. They display low albedo on brighter terrain.
Formation
(1)

Sapping: On Earth, springs from subsurface water may erode loose sediment by underground seepage erosion, causing sapping (undercutting and failure of the ground surface), leading to upslope retreat and the formation of short, stubby tributaries with amphitheater-shaped heads and strong structural control of valley alignment and planform (Sapping Valley) (e.g., Schumm et al. 1995; Perron et al. 2006). This process (methane spring sapping in water ice substrate) has been proposed for stubby drainage channel networks observed near the Huygens Landing Site on Titan (Tomasko et al. 2005). Sapping on Titan requires high amounts of subsurface liquids, "methanifers" (subsurface methane reservoirs) (Langhans et al. 2012*), which is suggested to be present from the observations of lakelike features (Stofan et al. 2007). Seepage erosion also requires horizontally layered material and poorly consolidated sediment to occur. In well-consolidated material, the material must be sufficiently susceptible to weathering, but even terrestrial cases are controversial for seepage erosion in consolidated materials (e.g., Lamb et al. 2006). Titan's surface materials are thought to have high mechanical strength and low solubility in liquid methane that makes it unlikely that discharge from methane springs could weaken such substrate enough to allow seepage erosion to occur (Perron et al. 2006).

 

(2)

Sapping and fluvial erosion: Seepage erosion of poorly consolidated material may be combined with fluvial erosion by liquid methane from precipitation, which erodes and transports water ice bedrock (e.g., Lamb et al. 2006).

 

(3)

Dissolution erosion: Sapping as a primary valley-forming process is still more likely than dissolution erosion on Titan. Dissolution on Titan is possible but unlikely because the solubility of pure water ice in liquid methane or ethane at 94 K is very small. The solubility of pure ammonia ice in liquid methane at 94 K may approach the solubility of calcium carbonate in water on Earth, but there is no evidence of exposed ammonia on the surface (Perron et al. 2006*). However, closed polygonal-walled regions have been identified in more recent images interpreted as karst-like terrain (Malaska et al. 2010).

 
Composition
Titan's surface and shallow subsurface composition is unknown. The bedrock is most probably made of water ice but is thought to be coated by a large accumulation of photochemically produced hydrocarbon aerosols settling from the atmosphere, of unknown thickness, over geological timescale.
Prominent Examples
Amphitheater-headed channels have been identified near the Huygens Landing Site (Fig.
1
) and around 134°W, 50°N, which resemble deeply incised terrestrial canyons (Langhans et al.
2012
).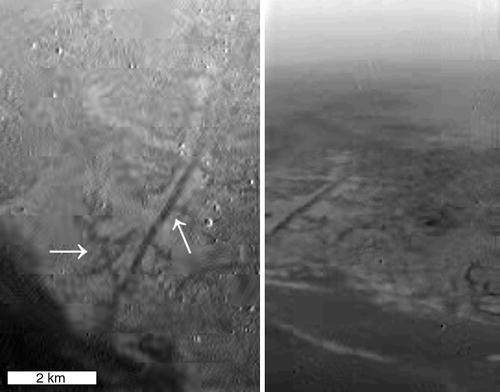 Terrestrial Analog
Valleys in the Florida Panhandle (Schumm et al. 1995).
Copyright information
© Springer Science+Business Media New York 2014