Pressure Ridge
Living reference work entry
DOI:
https://doi.org/
10.1007/978-1-4614-9213-9_285-1
Definitions
The term pressure ridge is applied to meter-scale ridges made up from platy material, which was fragmented from relatively thin crust and piled up by pressure. Kilometer-scale wrinkle ridges form by similar mechanism. Pressure ridges may be composed of:
(1)

Lava: An elongate uplift of the congealing thin crust of a lava flow, up-buckled by laterally directed pressure and uncoupled from underlying structure and topography (Bryan 1973; Walker 1991; Neuendorf et al. 2005; Fig. 1) or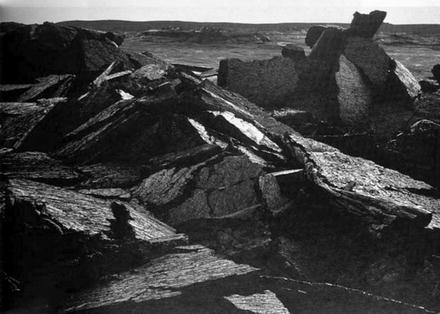 Keywords
Lava Flow 
Thin Crust 
Pressure Ridge 
Wrinkle Ridge 
Rubble Pile 
These keywords were added by machine and not by the authors. This process is experimental and the keywords may be updated as the learning algorithm improves.
Copyright information
© Springer Science+Business Media New York 2014