Boulder Track
Living reference work entry
DOI:
https://doi.org/
10.1007/978-1-4614-9213-9_19-1
Definition
Trails left by of rolling, bouncing, and skidding of rocks on sloping surfaces.
Description
Continuous or discontinuous, near-linear, or sinuous surface markings. Boulders may be present at the ends of the trails. Trail width is typically ~60 % of boulder size (Filice 1967).
Formation
Boulder tracks are caused when boulders roll, bounce, and/or skid down slopes. The boulders may be dislodged from slopes or displaced as crater ejecta. Depending on local topography and the boulder shape/axis of rotation, some boulders stay constantly in contact with the surface, yielding a continuous trail, while others bounce, yielding discontinuous surface markings (Figs.
1
and
2
). More irregularly shaped boulders yield more sinuous track shapes. Some tracks have visible berms along their edges, as well as a small berm in front of the boulder.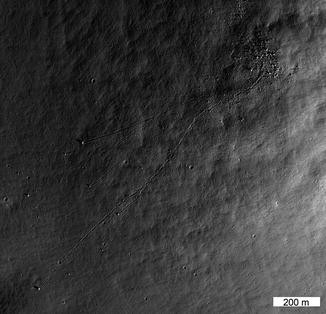 Keywords
Lunar Regolith 
Lunar Reconnaissance Orbiter 
Tool Mark 
Lunar Reconnaissance Orbiter Camera 
Lake Earthquake 
These keywords were added by machine and not by the authors. This process is experimental and the keywords may be updated as the learning algorithm improves.
Copyright information
© Springer Science+Business Media New York 2014