High-Relief Ridge
Living reference work entry
DOI:
https://doi.org/
10.1007/978-1-4614-9213-9_185-1
Definition
Narrow, linear to arcuate feature in plain view that occurs on silicate bodies (e.g., Mars, Mercury) thought to have experienced local-, regional-, or global-scale contraction. High-relief ridges are likely a morphological variant of lobate scarps, which are interpreted to be the surface expressions of reverse faulting.
Description
Up to hundreds of kilometers long, are positive-relief landforms that deform surface units as well as the walls and floors of impact craters (Watters et al.
2009
and references therein). Rare in comparison with
lobate scarps
, high-relief ridges often show a transition with them (Fig.
1
), suggesting that high-relief ridges and lobate scarps are similar expressions of the same process (Head et al.
2007
; Watters et al.
2009
; Watters and Nimmo
2010
; Byrne et al.
2014
).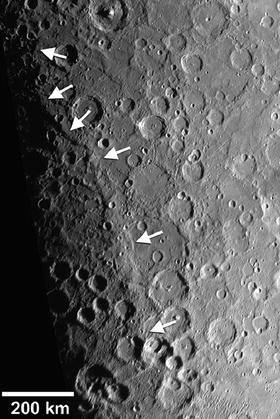 Keywords
Reverse Fault 
Planetary Body 
Mare Basalt 
Linear Ridge 
Dike Intrusion 
These keywords were added by machine and not by the authors. This process is experimental and the keywords may be updated as the learning algorithm improves.
Copyright information
© Springer Science+Business Media New York 2014