Drumlin
Living reference work entry
DOI:
https://doi.org/
10.1007/978-1-4614-9213-9_161-1
Definition
Streamlined hill, typically ovoid to elongate, in previously ice sheet/glacier affected terrains.
A type of subglacial streamlined hill.
Description
A streamlined hill that occurs mostly in glacial sediments (Menzies
1979
; Clark et al.
2009
; Shaw
2002
; Stokes et al.
2011
). They are ubiquitous on the now-exposed beds of former ice sheets, where they form fields or "flow-sets" that contain hundreds to thousands of individual drumlins with their long axis orientated parallel to the former ice flow direction (Boulton and Clark
1990
; Fig.
1
). Geophysical techniques have also detected their presence and formation beneath extant ice sheets, e.g., in Antarctica (King et al.
2007
; Smith et al.
2007
), and they have also been seen to emerge from receding glacier margins (Johnson et al.
2010
).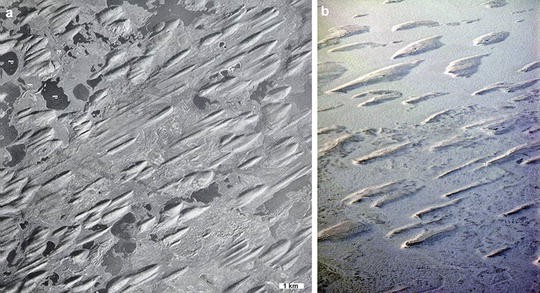 Keywords
Elongation Ratio 
Pressure Melting 
Glacier Margin 
Glaciofluvial Sand 
Pressure Melting Point 
These keywords were added by machine and not by the authors. This process is experimental and the keywords may be updated as the learning algorithm improves.
Copyright information
© Springer Science+Business Media New York 2014