Basal Scarp
Living reference work entry
DOI:
https://doi.org/
10.1007/978-1-4614-9213-9_14-1
Definition
Steep-walled, several km high perimeter of Olympus Mons volcano on Mars.
Description
The 600–800 km diameter, 23 km high Olympus Mons shield volcano is partially bounded by an escarpment with a height up to 10 km (McGovern et al.
2004
; Figs.
1
–
3
). The basal scarp is a roughly concentric feature composed of linear, concave, and convex segments separated by radial fractures (Geological Survey
1981
). The scarp serves as a break between volcanic flow structures; above the basal scarp lava channels dominate, while below it tabular sheets are representative of lava emplacement (Bleacher et al.
2007
). Beyond the scarp there are large aureoles (Tanaka
1985
), and closer to the flank of Olympus Mons, various features interpreted as mass movement features and debris-covered piedmont glaciers are present (Basilevsky et al.
2005
; Milkovich et al.
2006
).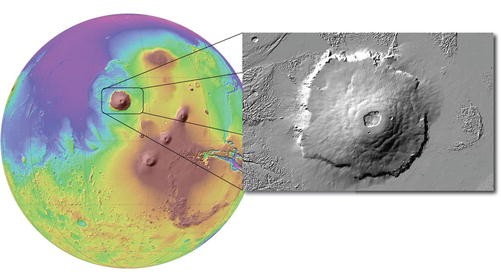 Keywords
Lava Flow 
Detachment Fault 
Submarine Landslide 
Wrinkle Ridge 
Lava Emplacement 
These keywords were added by machine and not by the authors. This process is experimental and the keywords may be updated as the learning algorithm improves.
Copyright information
© Springer Science+Business Media New York 2014