Reduced Morphology Models
Definition
Reduced morphology models are simplified computational models obtained by collapsing the dendritic tree of a detailed neuron model, in such a way to preserve as much as possible the original membrane dynamics.
Detailed Description
Morphologically detailed neuron models are based on 3D anatomical cell reconstructions and describe how the spatial dendritic structure of a neuron together with the kinetic properties and distributions of ion channels and synaptic inputs contributes to the dynamics and functionality of a neuron. These
compartmental neuron models
are usually composed of hundreds of dendritic branches (Fig.
1
) with nonlinear membrane properties.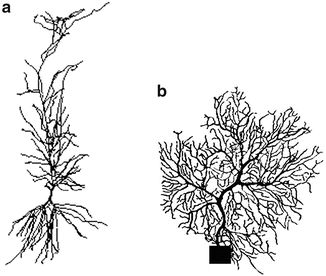 Keywords
Purkinje Cell 
Proper Orthogonal Decomposition 
Synaptic Input 
Dendritic Tree 
Axial Resistance 
These keywords were added by machine and not by the authors. This process is experimental and the keywords may be updated as the learning algorithm improves.
References
Further Reading
Migliore M, Shepherd GM (2005) Opinion: an integrated approach to classifying neuronal phenotypes. Nat Rev Neurosci 6:810–818

PubMed

CrossRef

Google Scholar
Copyright information
© Springer Science+Business Media New York 2014