Olfaction: Overview
Reference work entry
DOI:
https://doi.org/
10.1007/978-1-4614-6675-8_786
Definition
Olfaction or the olfactory systems refer to the sense of smell.
Detailed Description
In natural environments, airborne chemical stimuli can occur unpredictably in time and space, and odorants from many sources intermix. The olfactory system of animals is capable of detecting stimuli of interest to the animal within these chemically noisy environments. To achieve this, the system has to extract relevant signals, compare the extracted stimulus to previously experienced odors, differentiate relevant from irrelevant stimuli, and cue an appropriate response. Many of the neural circuit elements comprising the olfactory system are thought to contribute to these processes. Computational models of olfactory processing have at the forefront of attributing function to experimentally described neurons and networks (Fig.
1
).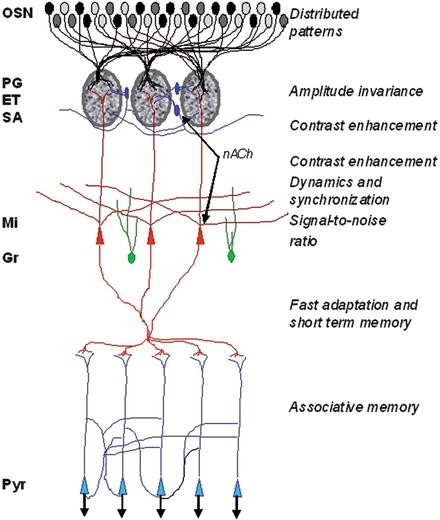 Copyright information
© Springer Science+Business Media New York 2015