Imaging Analysis, Bayesian
Reference work entry
DOI:
https://doi.org/
10.1007/978-1-4614-6675-8_449
Definition
This entry refers to Bayesian methods (Gelman et al.
1995
; Bishop
2006
) for making inferences about neural activity from brain imaging data. This includes data from functional magnetic resonance imaging (fMRI) (Huettel et al.
2009
), magnetoencephalography (MEG), and electroencephalography (EEG) (Luck
2005
). These data are unique in neuroscience in that they allow, through noninvasive methods, relations to be studied between the large-scale activity of the brain and human behavior. Statistical aspects of microscopic neural activity can be estimated through Bayesian inversion of appropriate mathematical models. The methods described below have been applied to the study of a wide range of human brain functions from low-level sensory processing and sensorimotor integration to studies of memory, emotion, and decision making (Friston et al.
2007b
; Fig.
1
).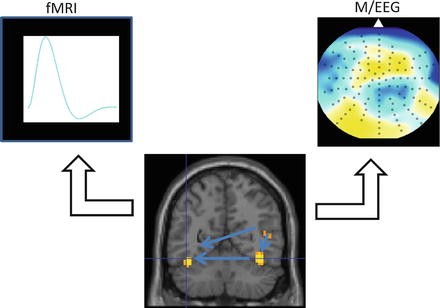 Copyright information
© Springer Science+Business Media New York 2015