BEX3
Living reference work entry
DOI:
https://doi.org/
10.1007/978-1-4614-6438-9_101775-1
Historical Background
The Brain-Expressed X-linked (BEX) is a family of five proteins including BEX1, BEX2, BEX3, BEX4, and BEX5 (Kazi et al.
2015
). BEX-family proteins are characterized by a highly conserved BEX domain (Fig.
1
). Function of the BEX domain is still poorly understood. Recent studies identified a role of BEX domain containing proteins in growth control. All BEX genes cluster to the human Xq22 chromosome. BEX3 was the first BEX-family protein described and was initially named HGR74 (Rapp et al.
1990
).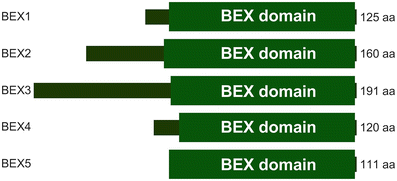 Keywords
PC12 Cell 
Nerve Growth Factor 
Nerve Growth Factor Receptor 
Ovarian Carcinoma Cell Line 
Human Ovarian Carcinoma Cell Line 
These keywords were added by machine and not by the authors. This process is experimental and the keywords may be updated as the learning algorithm improves.
Copyright information
© Springer Science+Business Media LLC 2016