SCD (Stearoyl-CoA Desaturase)
Living reference work entry
DOI:
https://doi.org/
10.1007/978-1-4614-6438-9_101551-1
Historical Background
Stearoyl-CoA desaturase (SCD), also known as delta-9-desaturase, is a membrane-bound enzyme that together with NADH-cytochrome b5 reductase and cytochrome b5 introduces a
cis
double bond in palmitoyl-CoA and stearoyl-CoA between their ninth and tenth carbon atom counted from the carboxyl site (Fig.
1
).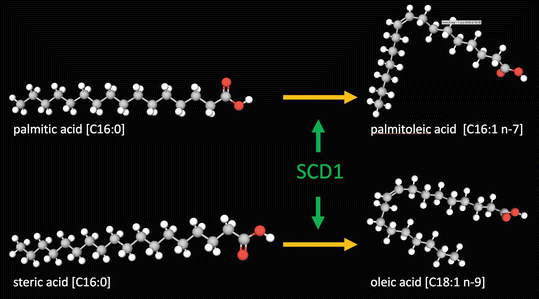 Keywords
Desaturated Fatty Acid 
SCD1 mRNA 
Liver Insulin Resistance 
Fatty Acid Balance 
Proper Fatty Acid 
These keywords were added by machine and not by the authors. This process is experimental and the keywords may be updated as the learning algorithm improves.
Copyright information
© Springer Science+Business Media LLC 2016