Abstract
With over 95 million inhabitants, Egypt is the second most populous country in the Middle East and North Africa. Poverty has nearly doubled over the last 15 years. Egypt has a very young population, and youth unemployment has become a major societal issue.
Egypt's health-care system is pluralistic combining both public and private providers and financers. The largest public health-care payers are the Health Insurance Organization (HIO) and the Curative Care Organization (CCO). HIO covers 60% of the population, and provides basic coverage to employees, students, and widows through their own hospitals and clinics. CCO contracts with individuals and companies to provide inpatient and outpatient care that was developed through the privatization of Egypt's health-care providers over the last two decades. Although the public system provides basic universal coverage, it is plagued by chronic underfunding, low service quality, and high out-of-pocket payments.
The private sector comprises private hospitals, doctors, and pharmacies, perceived as of higher quality than public services. Most private services are paid for out-of-pocket; private health insurance is insignificant.
With only 4.75% of GDP spent on health, total health expenditure (THE) in Egypt is low compared to other lower-middle-income countries. Out-of-pocket payments comprise over 60% of THE. Spending on pharmaceuticals is relatively high with over 25% of THE, mostly in the form of out-of-pocket costs. Another problem is the lack of communication between public and private providers.
Widespread public dissatisfaction with basic living conditions spurred the Arab Spring revolution in 2011. Since then, the country has seen sustained political instability and slow economic growth which have thwarted most long-term plans for health reform. Several reform measures have been publicly discussed, but only few were implemented such as the introduction of a pharmacoeconomics unit in the Ministry of Health to curb the disproportionately high spending on pharmaceuticals.
A long-term national strategy is needed to address issues of growing inequalities in financial access to care, the perceived low quality of public services, as well as the growing privatization of health care which furthers the existing inequalities in access to care.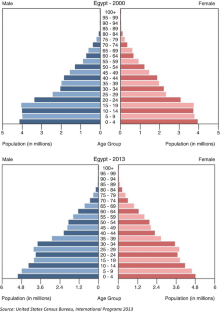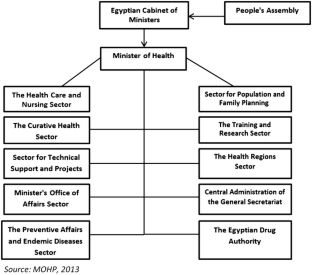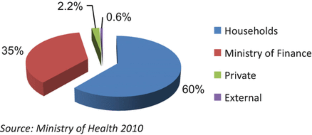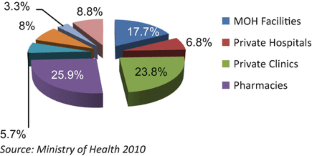 References
Abou-Ali H, et al. Evaluating the impact of Egyptian social Fund for Development programmes. J Dev Eff. 2010;2(4):521–55.

Abou-El-Fadl R. Beyond conventional transitional justice: Egypt's 2011 revolution and the absence of political will. Int J Transit Justice. 2012;6(2):318–30.

Anwar WA. Environmental health in Egypt. Int J Hyg Environ Health. 2003;206(4–5):339–50.

CIA. The World Factbook: Egypt. 2013 [cited 2013 June 27th]. Available from: https://www.cia.gov/library/publications/the-world-factbook/geos/eg.html.

Coutts A, et al. The Arab SPRING and health: two years on. Int J Health Serv. 2013;43(1):49–60.

Devi S. Women's health challenges in post-revolutionary Egypt. Lancet. 2013;381(9879):1705–6.

Egypt's progress towards achieving the Millenium Development Goals. Ministry of Economic Development, Cairo; 2010. p. 1–154.

Elgazzar H. Income and the use of health care: an empirical study of Egypt and Lebanon. Health Econ Policy Law. 2009;4(4):445–78.

Gericke CA. Comparison of health care financing in Egypt and Cuba: lessons for health reform in Egypt. East Mediterr Health J. 2005;11(5–6):1073.

Gericke CA. Financing health care in Egypt: current issues and options for reform. J Public Health. 2006;14(1):29–36.

Haley DR, Beg SA. The road to recovery: Egypt's healthcare reform. Int J Health Plann Manag. 2012;27(1):e83–91.

Hamilton OR. Egypt's latest revolutionary act was profoundly democratic: London: The Guardian; 2013.

Jabbour S. Egypt in crisis: politics, health care reform, and social mobilization for health rights. In: Public health in the Arab world. Cambridge/New York: Cambridge University Press; 2012. p. 477–88.

Jenkins R, et al. Mental health policy and development in Egypt – integrating mental health into health sector reforms 2001-9. Int J Ment Heal Syst. 2010;4:17.

Ministry of Health, Egypt. National Health Accounts 2007/2008: Egypt report. In: Health systems 20/20 project. Bethesda: Abt Associate Inc; 2010. p. 1–45.

MOHP. Egypt service provision assessment survey 2004. 2004. p. 1–410.

MOHP. 2013 [cited 2013 july]; Available from: http://www.mohp.gov.eg/about/OrgChart/default.aspx.

Mosallam RA, Aly MM, Moharram AM. Responsiveness of the health insurance and private systems in Alexandria, Egypt. J Egypt Public Health Assoc. 2013;88(1):46–51.

Roberts B, et al. The Arab Spring: confronting the challenge of non-communicable disease. J Public Health Policy. 2013;34(2):345–52.

Salem MA. Policy Research in Egypt's Health Sector Reform. The Alliance for Health Policy and Systems Research; 2002. Working paper no. 13.

WHO. Country cooperation strategy for WHO and Egypt 2010–2014: Geneva: World Health Organization; 2010. p. 1–52.

WHO. Egypt: health profile: Geneva: World Health Organization; 2013. p. 1–2.

WHO-EMRO. Health System Profile Egypt: Regional Health Systems Observatory, EMRO, World Health Organization, Cairo; 2006. p. 1–111.

World Bank. World Bank Data: Egypt. 2013 [cited 2013 June 12th]; Available from: http://www.worldbank.org/en/country/egypt.
Copyright information
© 2018 Springer Science+Business Media, LLC, part of Springer Nature
About this entry
Cite this entry
Gericke, C.A., Britain, K., Elmahdawy, M., Elsisi, G. (2018). Health System in Egypt. In: van Ginneken, E., Busse, R. (eds) Health Care Systems and Policies. Health Services Research. Springer, New York, NY. https://doi.org/10.1007/978-1-4614-6419-8_7-1
DOI: https://doi.org/10.1007/978-1-4614-6419-8_7-1

Received:

Accepted:

Published:

Publisher Name: Springer, New York, NY

Print ISBN: 978-1-4614-6419-8

Online ISBN: 978-1-4614-6419-8

eBook Packages: Springer Reference MedicineReference Module Medicine