Metagenomics of Mangroves
Living reference work entry
DOI:
https://doi.org/
10.1007/978-1-4614-6418-1_606-4
Introduction to Mangroves
Mangroves are boundary landform ecosystems present in tropical and subtropical regions, located in the intersection between land and sea (Holguin et al.
2001
). This ecosystem acts as a buffer area being essential for maintenance of the sea level and for the protection of the coast (Duke et al.
2007
). Environmental conditions particular to this biome are the salinity – which is related to the influence of the sea – and the frequent fluctuation between aerobic and anaerobic condition, caused by the fluctuation in the tidal regime (Holguin et al.
2001
; Ferreira et al.
2010
), which significantly causes an effect on redox potential that ranges from −200 to +150 mV (Clark et al.
1998
). Figure
1
illustrates mangroves on its distinct aspects.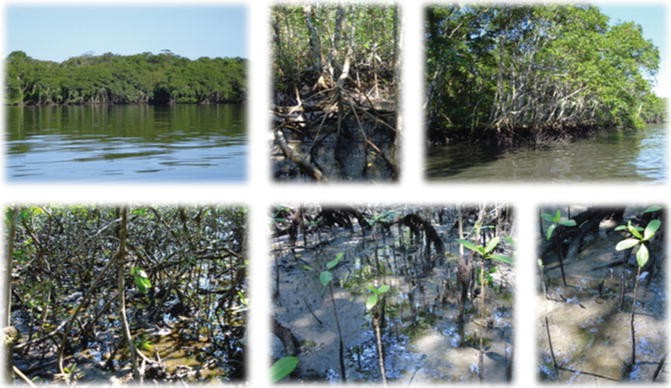 Keywords
Microbial Community 
Anaerobic Ammonium Oxidation 
Biogeochemical Cycle 
Archaeal Community 
Microbial Group 
These keywords were added by machine and not by the authors. This process is experimental and the keywords may be updated as the learning algorithm improves.
Copyright information
© Springer Science+Business Media New York 2012