Creativity, Discourses
Reference work entry
DOI:
https://doi.org/
10.1007/978-1-4614-3858-8_482
Introduction
The importance of sociocultural influences in contextualizing and contemporizing approaches to creativity is a recurrent theme in all areas of education, enterprise, and research. To understand, and analyze, how sociocultural factors direct and inform our perceptions of what it is, and what it means, to be creative, it is useful to deploy the concept of discourses as ideoethical constructs that we use to identify and articulate our emotional and intellectual relationship to others and other ways of being.
Application of discourse analysis allows identification of four distinct, but overlapping, discourses of creativity that draw upon, and influence, various aspects of teaching, learning, and management theory (Fig.
1
).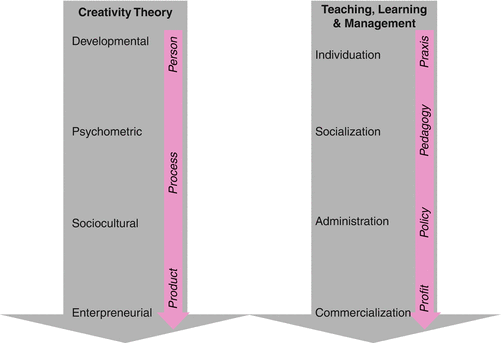 Copyright information
© Springer Science+Business Media LLC 2013