Dark Deposits (Mars)
Reference work entry
DOI:
https://doi.org/
10.1007/978-1-4614-3134-3_98
Definition
Accumulations of low albedo sediments on Mars.
Description
Dark deposits on Mars are blackish- to grayish-colored aeolian sand accumulations that are composed of poorly weathered fine-grained basaltic material. Most of the dark sediments are deposited inside impact craters and build individual dunes or dune fields (intracrater dark deposits) (Fig.
1
). The dark sediment is mainly composed of pyroxene and olivine and is, thus, thought to be ancient volcanic ash. Its unweathered nature indicates that it has never experienced significant contact to liquid water or was subject to aqueous alteration (Edgett and Christensen
1991
; Edgett
2002
; Poulet et al.
2003
; Tirsch
2009
; Tirsch et al.
2011
).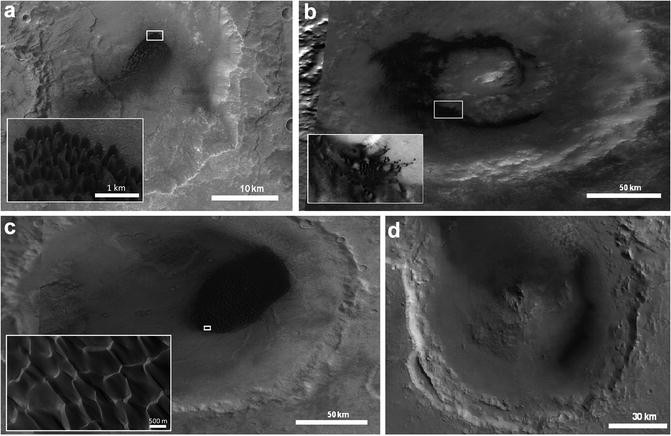 Copyright information
© Springer Science+Business Media New York 2015