Sastruga
Reference work entry
DOI:
https://doi.org/
10.1007/978-1-4614-3134-3_619
Definition
Meter-scale longitudinal snow feature produced by strong winds.
Variations
Plural, Sastrugi (Russian); variation, zastruga; synonym, skavler
Description
Sastrugi are irregular, wave-like, or domical ridges or grooves (Doumani
1967
), which align parallel with the prevailing wind direction (Fig.
1
). Similar to other erosional features and unlike depositional features, their steep face is on the windward side (Daffern
2009
) and may be overhanging, forming a snow cornice (Averianov
1969
, p. 28). Sastrugi fields – e.g., ridges separated by grooves – can produce a terrain of extreme surface roughness (Benson
1971
). Sets of sastrugi of different orientations can form a network of ridges (Warren et al.
1998
).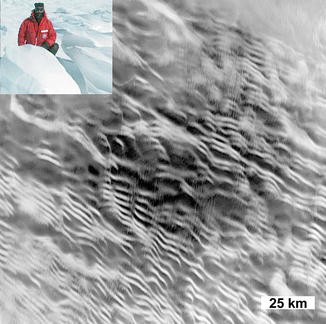 Copyright information
© Springer Science+Business Media New York 2015