Disharmonic Folds
Reference work entry
DOI:
https://doi.org/
10.1007/978-1-4614-3134-3_609
Definition
Folding style where vertically adjacent sediment layers develop different wavelengths and different amplitudes of folds (Price and Cosgrove 1990, p. 304).
Description
Irregular fold pattern: a fold exhibiting sharp changes in wavelength, symmetry, and shape, as compared to adjacent folds (Allaby 2013).
Interpretation
Rootless folds, dome structures, and disharmonic folding in Candor and Melas Chasma (Fig.
1
) are interpreted as similar to salt diapirs and salt domes on Earth (Milliken et al.
2007
) or, alternatively, as subaqueous mass movement deposits (Weitz et al.
2003
).
Honeycomb terrain
in Hellas Basin (Fig.
2
) is interpreted as a result of salt diapirism, soft sediment deformation, or crustal doming (Mangold and Allemand
2003
).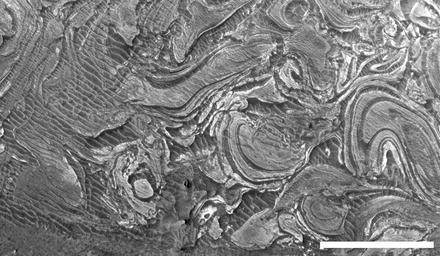 Copyright information
© Springer Science+Business Media New York 2015