Softened Terrain (Mars)
Reference work entry
DOI:
https://doi.org/
10.1007/978-1-4614-3134-3_587
Definition
Terrain displaying rounded and subdued topography.
Subtypes
"Softened terrain" may refer to (Kreslavsky et al.
2008
):
(1)

The soft appearance of topographic features at high latitudes on Mars, caused by smoothing of topography with a characteristic vertical scale on the order of several meter(s). Terrain softening affects all types of landforms, but it is particularly evident on softened craters (Fig. 1). It is characterized with broad slope inflections and convex slope segments (Squyres et al. 1992, p. 543).

(2)

Latitude-dependent trends in crater depth, concentric crater infill, etc., related to creep of a hundreds-of-meters-thick layer ( lineated valley fill).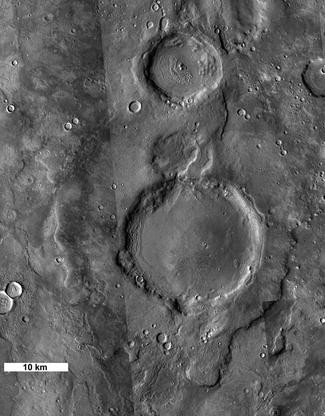 Copyright information
© Springer Science+Business Media New York 2015