Strike-Slip Faults
Reference work entry
DOI:
https://doi.org/
10.1007/978-1-4614-3134-3_548
Definition
Faults with a displacement parallel to the strike of fault plane.
Description
High angle dipping faults where the displacement vector is parallel to the fault strike and, hence, to the planetary surface (e.g., Sylvester
1988
; Fossen
2010
). Recognizable at the surface by means of the related horizontal offsets, the linkage of their original constitutive Riedel-, P- and T-type fractures, their fault terminations (horse-tail, wing cracks, branch faults etc.) and specific structural features at their step and bends (positive and negative flower structures, restraining or realising bends or step-overs) (Figs.
1
and
2
). A variant of strike-slip faults are transpressive and transtensive faults where an important component of the slip vector parallel to the fault strike is coupled to a component of dip slip movement (either compressional or extensional).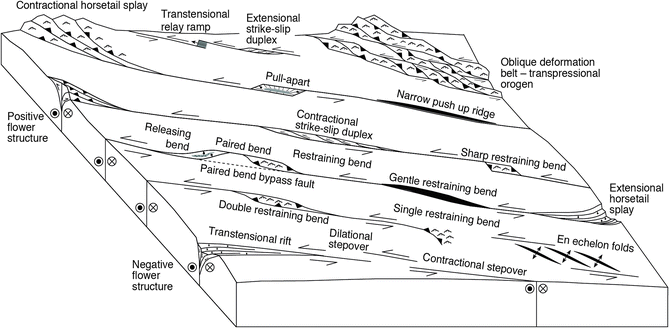 Copyright information
© Springer Science+Business Media New York 2015