Shield Plain
Reference work entry
DOI:
https://doi.org/
10.1007/978-1-4614-3134-3_424
Definition
Lava plain on Venus with scattered small volcanic edifices at a substantially larger area and smaller spatial density than that of shield fields.
Synonyms
Shield terrain (Hansen 2005)
Description
Smooth plains characterized by scattered small (<20 km diameter) shield-like features that are interpreted as volcanic edifices (Hansen
2005
; Ivanov and Head
2011
; Fig.
1
). They resemble
shield fields (Venus)
, but their morphology is more diverse and they appear more uniformly distributed rather than clustered. Shields in many shield plains occur close to each other and form groups/clusters of structures (Ivanov and Head
2011
). Shield plain units typically occur as 10s–100s km wide patches.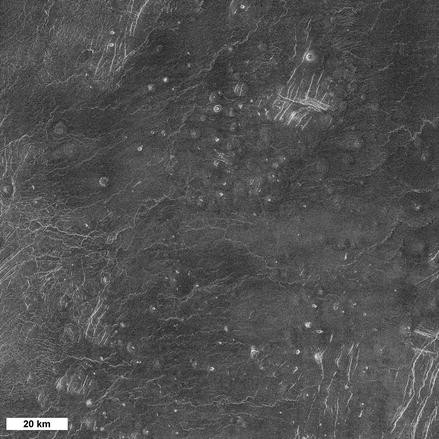 Copyright information
© Springer Science+Business Media New York 2015