Seasonal Polar Fan-Shaped Deposits (Mars)
Reference work entry
DOI:
https://doi.org/
10.1007/978-1-4614-3134-3_358
Description
Fan-shaped, usually dark, surface deposits that appear in spring on top of seasonal ice layer in polar areas (Fig.
1
). Their orientation is modified by near-surface winds. At some locations they are associated to bright halos (
dark dune features
) that formed by either recondensation of ice or by the dark particles melting their way downward through the ice and revealing bright ice from underneath them (Malin and Edgett
2000
; Pommerol et al.
2011
; Piqueux et al.
2003
). Fans develop during local spring: they might grow in size, change their orientation, develop bright halos around them, brighten up, or darken relatively to their surrounding until complete seasonal ice layer is sublimed from the surface and the fans become indistinguishable from the underlying substrate (Fig.
2
).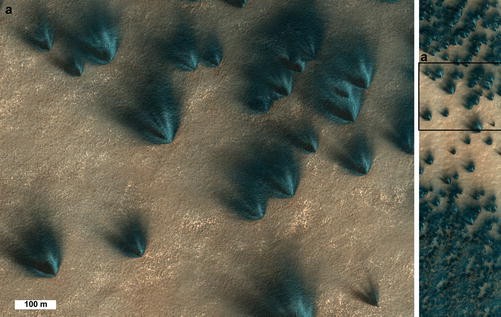 Copyright information
© Springer Science+Business Media New York 2015