Small Volcano (Venus)
Reference work entry
DOI:
https://doi.org/
10.1007/978-1-4614-3134-3_353
Definition
Volcano of less than 20 km in diameter on Venus (Head et al. 1992).
Description
Typically shield-shaped, radar-smooth or rough, 0.5–20 km diameter quasi-circular to circular edifices with or without a summit pit (e.g., Hansen 2005).
Morphometry
Small volcanoes studied by Kreslavsky and Head (1999) are 1–19 km high (average, 3–5 km) and 24–1,242 m high (average, 110–200 m).
Subtypes
The topographic classes of small volcanic edifices are (Aubele 1993; Guest et al. 1992): (1) shield shaped (most common) ( shield volcanoes); (2) domical shaped ( dome); (3) cone shaped ( volcanic cones), and (4) flat topped (mesa).
Age
Small volcanoes occur in a variety of geologic and stratigraphic settings on Venus.
In the equilibrium (nondirectional) resurfacing model, small volcanoes represent a global process occurring locally throughout the recent history of Venus (e.g., Addington 2001).
In the directional volcanic evolution model (Basilevsky and Head 1998; Kreslavsky and Head 1999; and Ivanov and Head 2004), small volcanoes occur in a unit in unusual abundance, below the regional plains unit. Emplacement of  shield plains represents a period of preferential formation of small edifices. Following this period, volcanic style changed and lava from few sources ( wrinkle-ridge plains) flooded and embayed shield plains. Small volcanoes postdating regional plains are associated with large young volcanic centers and exclusively occur in the Beta-Atla-Themis (BAT) region (Ivanov and Head 2004).
Distribution
Small volcanoes are scattered on
shield plains
and
wrinkle-ridge plains
(Fig.
1
) and are concentrated in
shield fields
(Ivanov and Head
2011
). Based on low-resolution Venera 15/16 data, it has been estimated that there are on the order of four million small volcanoes on Venus (Aubele and Slyuta
1990
). Magellan images are estimated to contain 1 million <15 km volcanoes (Burl et al.
1993
).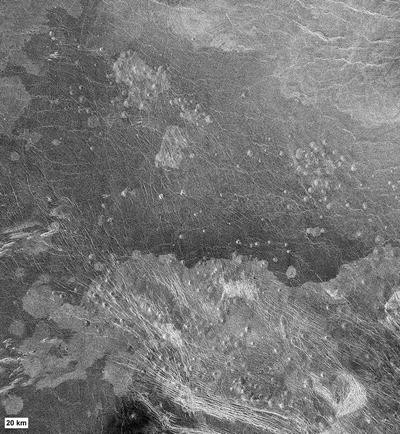 History of Investigation
Discovered in Venera 15/16 radar images, initially called "small domes" (Barsukov et al. 1984) following lunar nomenclature and were thought to be similar to volcanic domes and cinder cones on Earth and Mars. The category included features <15 km (Barsukov et al. 1986; Slyuta et al. 1988). The specific size divisions of Venusian volcanoes are in part arbitrary defined, but also derive from the cumulative size-frequency distribution (Crumpler et al. 1997). The need for cataloging the very large number of small volcanoes on Venus initiated the development of automated learning-based pattern recognition systems (Burl et al. 1993, 1998; Wiles and Forshaw 1992).
Copyright information
© Springer Science+Business Media New York 2015