Secondary Crater Cluster
Reference work entry
DOI:
https://doi.org/
10.1007/978-1-4614-3134-3_330
Definition
Isolated groups of small craters, generally consisting of 10 or more craters from 10 m to a few km diameter (Figs.
1
,
2
). They often overlap, are presumed to have formed simultaneously, and are interpreted as craters formed by the impact of ejecta from a large impact.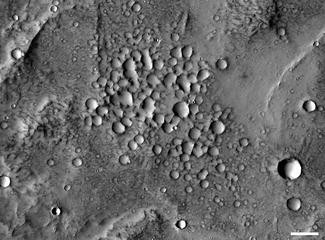 Copyright information
© Springer Science+Business Media New York 2015