Drumlin
Reference work entry
DOI:
https://doi.org/
10.1007/978-1-4614-3134-3_161
Definition
Streamlined hill, typically ovoid to elongate, in previously ice sheet/glacier affected terrains.
Category
A type of subglacial streamlined hill.
Description
A streamlined hill that occurs mostly in glacial sediments (Menzies
1979
; Clark et al.
2009
; Shaw
2002
; Stokes et al.
2011
). They are ubiquitous on the now-exposed beds of former ice sheets, where they form fields or "flow-sets" that contain hundreds to thousands of individual drumlins with their long axis orientated parallel to the former ice flow direction (Boulton and Clark
1990
; Fig.
1
). Geophysical techniques have also detected their presence and formation beneath extant ice sheets, e.g., in Antarctica (King et al.
2007
; Smith et al.
2007
), and they have also been seen to emerge from receding glacier margins (Johnson et al.
2010
).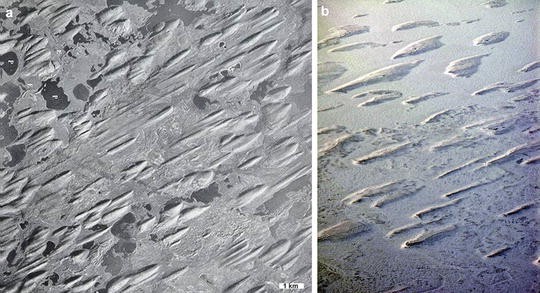 Copyright information
© Springer Science+Business Media New York 2015