Double-Layer Ejecta
Reference work entry
DOI:
https://doi.org/
10.1007/978-1-4614-3134-3_137
Definition
Impact crater ejecta morphology displaying two continuous deposits.
Description/Structural Units
Double-layer ejecta (DLE) craters have been identified on Mars and Ganymede. The inner layer of the DLE morphology is thicker and terminates in a concave scarp. The outer layer is thinner and more extensive, typically terminating in a distal ridge (rampart) (Barlow et al.
2000
; Schenk and Ridolfi
2002
; Boyce and Mouginis-Mark
2006
; Boyce et al.
2010
). Martian DLE craters display a strong radial texture of grooves and ridges extending from the crater rim to the edge of the outer layer (Fig.
1
). A topographic moat typically occurs just beyond the crater rim. Secondary craters extending beyond the outer ejecta layer are seldom seen (Boyce and Mouginis-Mark
2006
).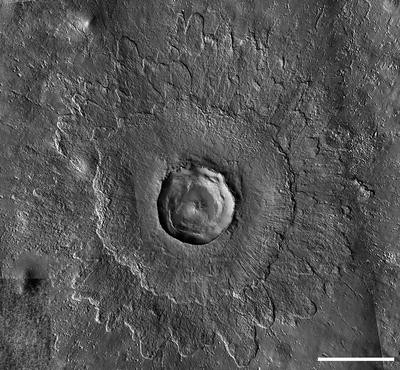 Copyright information
© Springer Science+Business Media New York 2015