Densely Lineated Plains (Venus)
Reference work entry
DOI:
https://doi.org/
10.1007/978-1-4614-3134-3_110
Definition
Densely lineated plains (pdl) have a noticeably high radar backscatter cross section, which, however, is lower than that of tessera. The surface of the plains is heavily dissected by numerous densely packed lineaments, and the characteristic pattern of deformation plays a very important role in the definition of the plains.
Description
Lineaments that dissect the surface of densely lineated plains are narrow (from a few hundred meters wide and down to the resolution limit), relatively short (a few tens of kilometers long), and parallel or subparallel to each other (Fig.
1
). If the lineaments are wide enough, they usually appear as fractures. Densely lineated plains occur as equidimensional, elongated, and arc-like fragments that are usually tens of kilometers across.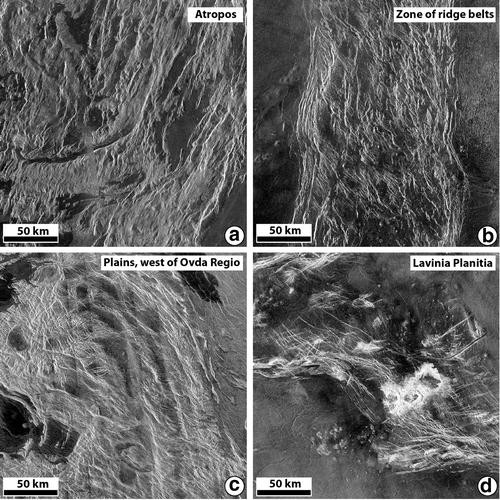 Copyright information
© Springer Science+Business Media New York 2015