Silicon, Physical and Chemical Properties
Reference work entry
DOI:
https://doi.org/
10.1007/978-1-4614-1533-6_405
Silicon is a metalloid having the diamond structure (Fig.
1
). It has the appearance of a metal (Fig.
2
) but lacks all properties of metals. Modern electronics is almost exclusively (>95%) based on silicon devices and these are made from single-crystal silicon. Silica, SiO
2
, is the major constituent of rock-forming minerals in magmatic and metamorphic rocks; it accounts for ca. 75% of the Earth's crust. The basic building block of the silicates is the SiO
4
4−
tetrahedron (Fig.
3
). The variety in the structures of the silicates is due to the various possible combinations of these tetrahedral, both with each other and also with other ions.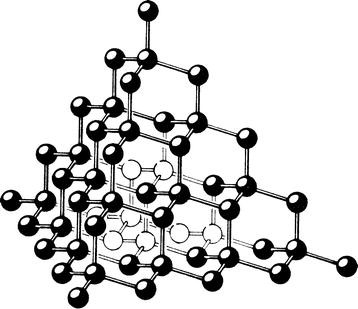 References
Habashi F (2003) Metals from ores. An introduction to extractive metallurgy. Métallurgie Extractive Québec, Québec City. Distributed from Laval University Bookstore.

www.zone.ul.ca

Zulehner W et al (1997) In: Habashi F (ed) Handbook of extractive metallurgy. Wiley-VCH, Weinheim, pp 1861–1984

Google Scholar
Copyright information
© Springer Science+Business Media New York 2013