de Maupertuis, Pierre-Louis Moreau
Reference work entry
DOI:
https://doi.org/
10.1007/978-1-4419-9917-7_914
Alternate Name
 Maupertuis, Pierre-Louis Moreau de
Born Saint-Malo, (Ille-et-Vilaine), France, 28 September 1698
Died
Basle, Switzerland, 27 July 1759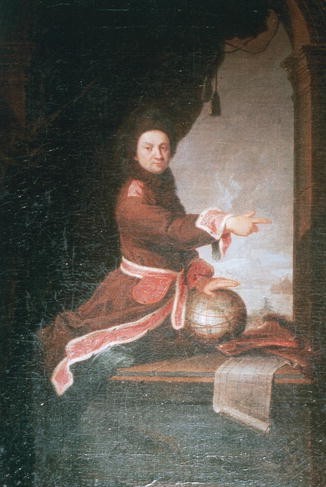 In astronomy, Pierre de Maupertuis contributed to the understanding and diffusion of   Isaac Newton 's theory in France and in continental Europe. He arranged for, and participated in, measurements to ascertain the shape of the Earth. In physics, Maupertuis was the first to formulate the least-action principle. He also made contributions to mathematics, biology, heredity, and moral philosophy. As a prolific intellectual, Maupertuis opened new roads in science.
Maupertuis' father, René Moreau, was a layperson. Maupertuis was raised by his overprotective mother and first educated at home. For philosophical instruction, he attended the Collège de la Marche in Paris in 1714. At his mother's request, he returned to Saint-Malo in 1716 and gave up his wish to go to sea. After a visit to Holland in 1717, Maupertuis moved back to Paris where he began musical studies, but quickly switched to mathematics.
In 1718, Maupertuis joined the Mousquetaires Grisand in 1720, with the rank of lieutenant, was stationed in Lille. During his army period, he devoted all his free time to geometry. In the following year, he resigned his commission and returned to Paris. There Maupertuis joined a group of scholars, three of whom were members of the Académie royale des sciences, through whose intervention he was elected to the academy on 14 December 1723 as an adjoint-géomètre, the lowest position, despite having no publications.
In August 1725, a short time after the publication of his first paper devoted to the influence of shape on the properties of musical instruments, Maupertuis was promoted to associé. From 1723 to 1733, he published various memoirs concerning geometry, mathematics, and zoology; the memoir Sur la question des maximis et des minimiswas the first step in his formulation of the least-action principle.
Maupertuis made his first foreign journeys, to London in 1728, to Basle – he registered there as a student – in 1729, and again to Basle the next year. These journeys played a major part in his future intellectual evolution. In London, Maupertuis was at the heart of the Newtonianism, of observational science, and of watch and instrument making. He was admitted to the Royal Society on 27 June 1729 (O.S.). In Basle Maupertuis met   Johann Bernoulli , from whom he received an excellent general scientific training and an introduction to   Gottfried Leibniz ' thought. Throughout his life, Maupertuis found friendship and support from the Bernoulli family.
During the 1730s, Maupertuis published many papers. 1731 was the year of both the publication, in England, of the De Figuris, his first astronomical paper, and his election as a pensionnaire-géomètreto the academy. The publication, in the following year, of his Discours sur la figure des astresis considered to be the first book promoting the Newtonian theory in France and continental Europe. While he presented Cartesianism and Newtonianism with some symmetry, Maupertuis did in fact support the latter.
The question of the exact shape of the Earth was of central importance, particularly to the academy, because  Jacques Cassini'sand colleagues' measurements led to a prolate model of Earth, whereas Newtonians argued for an oblate Earth. During the period 1732–1735, Maupertuis studied the consequences of the law of attraction on the Earth's shape and other celestial bodies. Because of the disagreements and following a proposal made by Maupertuis, the academy ordered two expeditions to measure the length of a degree along a meridian at two very different latitudes.   Charles de la Condamine ,   Louis Godin , and   Pierre Bouguer led an expedition to Peru, while Maupertuis and   Alexis-Claude Clairaut , who already worked together, led a second one to the Gulf of Bothnia. Before sailing to Lapland, both were trained in observing and measuring by Jacques Cassini. The abbé   Réginald Outhier , a member of the Academy of Caen and an astronomer, accompanied them and chronicled the expedition in his Journal d'un voyage au Nord, en 1736 & 1737. This expedition may have been one wherein   John Hadley 's octant was first used. Charles-Etienne Camusand Pierre-Charles Lemonnier, two skilled parisian astronomers, and Anders Celsiusa very talented Sweedisch astronomer, professor in Uppsala, did participate to the Lapland expedition. Whereas the expedition to Peru lasted about 10 years, the Lapland team returned to Paris on 20 August 1737, just 16 months after departure. Their measurements confirmed the oblateness of Earth.
Maupertuis made two reports to the academy (1737 and 1738) but did not convince Cassini and his followers. He carried on debating with Cassini in his Examen désintéréssé des différents ouvrages qui ont été faits pour déterminer la figure de la Terre, published in 1738 (Oldenbourg) and in 1741(Amsterdam). Waiting for the return of the Peru mission, the Lapland astronomers reassembled in August 1739 and made a new measurement of the arc between Amiens and Paris, already measured by   Jean Picard in 1669. To support his position on the Earth's figure, Maupertuis published three works in 1740: Éléments de géographie, Degré du méridien entre Amiens et Paris, and Lettre d'un horloger anglois à un astronome de Pékin, this last work an ironic literary piece attacking Cassini's followers in the academy. During this period, Maupertuis carried on a wide correspondence with leading European scholars. He also taught Mme du Chatelet geometry and calculus.
Maupertuis had been elected an associé-étrangerof the Berlin Academy in 1735 and was so informed when he returned from Lapland. When Frederick II became King of Prussia in 1740, he wished to reform his academy and invited Maupertuis to come to Berlin. In September 1740, Maupertuis arrived there for the first time. Going to meet Frederick at Mollwitz, during the War of Austrian succession in the following year, Maupertuis was taken prisoner by the Austrians, but was well received by the court in Vienna. In 1745, he settled in Berlin and, in August, married Eleonor de Bork, a noblewoman he had met on an earlier visit. Maupertuis assumed the presidency of the Berlin Academy on 3 March 1746. Although he had been active in the Paris Academy (sous-directeurin 1735 and 1741, directeur in 1736 and 1742), he now was excluded from the royal academy of sciences; however he remained a member of the Académie française.
In Paris, before his official installation in Berlin, Maupertuis penned his Discours sur la parallaxe de la Lune pour perfectionner la théorie de la Lune et celle de la Terre(1741), Lettre sur la comète(1742), and Astronomie nautique(1743). All dealt with Newtonian solutions to various questions.
In the later 1740s and 1750s, Maupertuis turned more to speculative and natural philosophy and to his routine work for the Berlin Academy. He published many of his ideas in letters. As president, he supported astronomical work, including the first precise measurement of lunar parallax thanks to observations by   Joseph-Jérome de Lalande (another Berlin academician) at Berlin and by   Nicolas de La Caille at the Cape of Good Hope.
Maupertuis was the first to formulate the least-action principle, which he considered as the summit of his work. He published on statics in Loi du repos des Corpsin 1740; he applied the ideas to optics in a paper "Accord de différentes lois de la Nature qui avoient paru incompatibles" (1744). To extend the ideas to mechanics, Maupertuis assumed collisions of massive points. His full ideas appeared in Essay de Cosmologiein 1750.
Samuel König, a Berlin academician and long-time friend, claimed that Leibniz had indicated, in a letter, that he had been the first to formulate the least-action principle. Although in poor health, Maupertuis fought to maintain his priority, and the fight spread to many Berlin intellectual circles. As the Leibniz letter could not be found, the academy supported Maupertuis in the meeting of 13 April 1752. Therefore König had to resign. There resulted a great hostility towards Maupertuis, including a virulent attack by Voltaire, in his Diatribe du docteur Akakia(1752), which portrayed him as an arrogant fool.
In his last years Maupertuis produced works on reproduction, heredity, and pleasure, including Dissertation physique à l'occasion du nègre blanc(1744) and Vénus physique(1745). In the Système de la natureof 1751, Maupertuis speculated on parental heredity, anticipating some ideas of the following century. He left Berlin for the last time in June 1756. He was reinstalled in the Paris Academy on 15 June. A final journey in 1759 took him to Bernoulli's home in Basle, where he died. In Saint-Roch church in Paris, a marble funeral stele was erected by his friends in 1766.
Copyright information
© Springer Science+Business Media New York 2014