Born Prince Edward County, Virginia, USA, 7 March 1837
Died
New York, New York, USA, 20 November 1882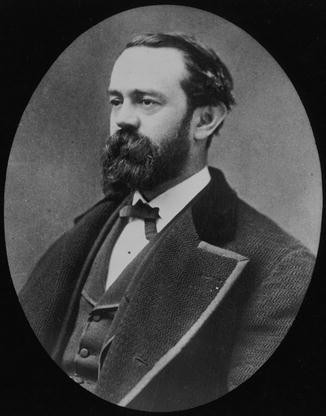 Henry Draper, a physician by profession and prominent American amateur astronomer and telescope maker, recorded the first photographic images of the Orion Nebula and of the spectrum of a star (Vega). His name adorns the Henry Draper catalog of stellar spectral types.
Draper's father,   John Draper , was an accomplished physician, chemist, and professor at the University of the City of New York (later New York University). Draper's mother was the former Antonia Coetana de Paiva Pereira Gardner, whose own father was personal physician to Dom Pedro I, Emperor of Brazil. Draper's elder brother, John Christopher, became a noted physician and chemist; a younger brother, Daniel, distinguished himself in meteorology. His neice   Antonia Maury , was one of the three women who developed the system of spectral classification used in the Catalogue.
At the age of 13, Henry Draper assisted his father in photographing microscope slides for a textbook. He later used similar techniques for his own medical thesis on the spleen in 1857. Draper spent a year abroad after completing his medical training at age 20; he could not receive his diploma before turning 21. His travels included a tour of the estate of   William Parsons (Third Earl of Rosse) in Ireland, where he examined the world's largest telescope, the 72-in. Leviathan reflector. Draper returned home determined to exploit his knowledge of photography for astronomical purposes. He pursued his goal with vigor, building an observatory on his father's estate at Hastings-on-Hudson, New York. However, these activities did not prevent him from fulfilling his professional duties, first as a physician at Bellevue Hospital and later as both professor and dean of medicine at the University of the City of New York.
In September 1858, shortly after his return from Europe, Draper began the construction of a mirror grinding machine of Lord Rosse's design. Early experiments in casting and polishing a 15½-in. speculum metal mirror came to a disappointing end when water in the mirror mount froze and cracked the finished mirror into two pieces. Draper's father recounted the sad story to   John Herschel during a visit to England. Aware that   Jean Foucault and Karl August Steinheil (1801–1870) had each experienced success using parabolic silvered glass mirrors as telescope objectives, Herschel suggested that Draper consider changing to glass. Draper began to experiment with glass, making over 100 mirrors as he tried various grinding, polishing, and testing procedures. He studied the effects of glass type, temperature during the polishing and testing phases, and other variables in the process. His initial grinding machine produced too many zones in mirrors and was replaced with a machine designed by   William Lassell , although that too was later replaced with a simplified version that is now known as the Draper machine. After a visit to Hastings-on-Hudson, Smithsonian Institution director   Joseph Henry asked Draper to publish a memoir on what he had learned in all this experimentation. Draper's valuable memoir on construction of his 15½-in. reflecting telescope, published by the Smithsonian Institution, guided telescope makers for several generations.
Draper's work was interrupted in 1862 when he volunteered for service in the Union Army as a regimental physician. His frail physical condition could not withstand the strain, however, and he returned to his home after 9 months.
In 1863, Draper made over 1,500 photographic exposures of the Moon. Some of those exposures were sharp enough to stand enlargement up to a lunar diameter of 50 in.
Draper married Anna Mary Palmer in 1867. A wealthy socialite, Anna proved as able a laboratory assistant as she was a hostess. The Drapers often entertained a stellar cast of scientists and celebrities in their home. They had no children.
In the fall of 1867, Draper began work on a 28-in. mirror. When completed in May 1872, the optics provided for use at both the Newtonian and the Cassegrain foci. Soon after the large reflector was completed, Draper took several exposures of the bright star α Lyrae (Vega). He placed a quartz prism slightly ahead of the Cassegrain focus, and after several trials, was rewarded with the first stellar spectrum ever photographed. The same year, Draper recorded the solar spectrum photographically for the first time. His solar spectrum was the best available between 1873 and 1881; he had it reproduced with the photomechanical Albertype process so that it could be distributed for comparison purposes.
Throughout the 1870s, Draper continued to apply photography and spectrography to astronomical objects whenever time permitted. The death of Anna's father left Draper with many time-consuming duties as the executor of the estate. Eventually, Draper resigned his position as dean of the medical school and accepted a position as professor of analytical chemistry in 1873. That change was likely also prompted by Draper's acceptance of responsibility for photographic applications during the US transit of Venus expeditions. During the remainder of the 1870s, Draper accumulated spectra of the Orion Nebula, the Moon, Jupiter, Mars, Venus, and numerous bright stars. He was also the first to combine photography with the slit spectroscope to create what he then called a spectrograph.
Draper's scientific judgment failed him only once in a significant manner. In 1877, he claimed to have identified 18 emission lines of oxygen in the spectrum of the Sun, although other spectroscopists disagreed with his identification. Even a trip to London to display his results for the Royal Astronomical Society failed to persuade Draper's critics. This was perhaps the one case in which Draper's enthusiasm carried him too far. However, it is likely consistent with his general approach. Draper pushed the state of the art in photography, instrumental optics, and telescope clock drives, the steadiness of which is essential for long photographic exposures.
Draper is best known for obtaining the first photograph of an astronomical nebula, recording the Orion Nebula on the night of 30 September 1880. His first image, a 50-min exposure, was not very impressive, but Draper improved upon it rapidly. His last exposure of 137 min on 14 March 1882 showed considerably more nebulosity and faint star detail. Further refinements in photographing the Orion Nebula were achieved by   Andrew Common and   Isaac Roberts in England after Draper's untimely death. Draper also captured the first wide-angle photograph of a comet's tail, and the first spectrum of a comet's head, both on the Great Comet C/1881 K1 (Tebbutt). In both his photography and his spectrography, Draper was an important pioneer in astrophysics.
At the height of his career, while pursuing increasingly detailed photographs of the Orion Nebula, Draper was taken ill after a hunting trip to the Rocky Mountains and died of double pleurisy. His wife later established the Henry Draper Memorial to support photographic and spectrographic research in astronomy. The memorial funded both the Henry Draper Catalog, a massive photographic stellar spectrum survey carried out by   Annie Cannon and   Edward Pickering still in wide use today, and the Henry Draper Medal, which continues to be awarded by the National Academy of Sciences for outstanding contributions to astrophysics.
Draper received numerous awards, including honorary law degrees from New York University and the University of Wisconsin, a Congressional medal for directing the US expedition's efforts to photograph the 1874 transit of Venus, and election to both the National Academy of Sciences and the Astronomische Gesellschaft. In addition, he held memberships in the American Photographic Society, the American Philosophical Society, the American Academy of Arts and Sciences, and the American Association for the Advancement of Science.
Copyright information
© Springer Science+Business Media New York 2014