Dee, John
Reference work entry
DOI:
https://doi.org/
10.1007/978-1-4419-9917-7_345
Born London, England, 15 July 1527
Died
Mortlake, (London), England, December 1608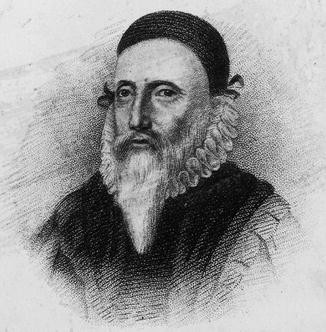 John Dee is notorious for his alchemy, mysticism, and astrology; famous for his influence in the affairs of the Tudor court; and important to the history of astronomy as a government adviser on navigational matters and the calendar.
Dee's father, Roland Dee, was a mercer and a "gentleman server" (minor official) at the court of Henry VIII. His mother was Jane, daughter of William Wild. Dee attended Chantry School in Essex and Saint John"s College, Cambridge (BA: 1545). He became a fellow of Trinity College in 1546 (MA: 1548) and studied at Louvain University from 1548 to 1551, with   Gemma Frisius and   Gerhard Kremer . At Louvain, Dee was a tutor in mathematics and geography. Returning to England, he cultivated influential social circles, tutoring the Earl of Warwick and Sir Philip Sidney, and gaining the patronage of the Duke and Duchess of Northumberland. (Dee was tutor of their children, including Robert Dudley, the future Earl of Leicester.) He gained a yearly pension from King Edward VI and significant patronage from the Earl of Leicester.
During the reign of Queen Mary, Dee cast horoscopes for her and her sister, Elizabeth. He was accused of heresy and of directing enchantments toward Mary's life, and was imprisoned for a year before he was cleared. When Elizabeth succeeded her sister, Dee was commissioned to select an astrologically auspicious date for her coronation, and was declared Royal Astrologer. As Queen, Elizabeth protected him from further slanders about being a magician, so that he could pursue his "rare studies and philosophical exercises." As court astrologer, he claimed to have put a hex on the Spanish Armada and caused the bad weather that wrecked the fleet.
From 1555 for 30 years, Dee was a consultant to the Muscovy Company, founded by the navigator and explorer Sebastian Cabot to exploit a monopoly of Anglo-Russian trade. It had as one of its aims the search for the northeast and northwest passages. Dee prepared nautical information, including charts for navigation in the polar regions. The first mathematician to apply Euclidean geometry to navigation, he edited (and possibly wrote parts of) the Billingsley translation of Euclid in 1570, adding a prophetic preface in justification of mathematics as the foundation of the sciences. Dee instructed a number of pilots, including Richard Chancellor, Stephen and William Borough, Martin Frobisher, Humphrey Gilbert, John Davis, and Walter Raleigh, and may have been an advisor to Drake's voyage.
As part of a planned, larger work on the history of discoveries, Dee wrote a pamphlet (1577), Rare studies and philosophical exercises(known from later key words in the title as The Perfect Arte of Navigation) as propaganda for the British Empire. In this role as a visionary for the British Empire, he created the personification of Britannia and developed a plan for the British Navy. In 1580, Dee was commissioned by Elizabeth to establish the legal case for "reacquiring" the colonies of North America. He traced the legal history of the British colonization of America back to Madoc, a Welsh Prince of the Middle Ages, who is said to have taken a group of people to New England to establish the first colony from Britain. Other consulting work for the crown included reports on Pope Gregory XIII's corrections in 1582 to the Julian calendar.
As a powerful and evidently well-enough paid court intriguer, and 50 years before the foundation of the library in Oxford by Thomas Bodley, Dee built up a library of 4,000 books, said to be the largest in England, assembled from the dissolved monasteries. The books were mostly medieval science and history manuscripts, and the library was dispersed after his death. (There exists a John Dee Society; one of its aims is to reconstitute the accession list of the library.) Dee himself wrote Monas hieroglyphia(1564) and Propaedeumata aphoristica(1558), books of mysticism and astrology. In 1573, he published Parallacticae commentationis praxosque, a trigonometric analysis of the parallax of the new star (supernova) of 1572 (SN B Cas). He designed a large radius astronomicusfor   Thomas Digges to observe it.
Around 1582, Dee's interests in astrology, crystal gazing, divination, and the occult made him associate with Edward Kelly, who claimed to have discovered the alchemical secret of transmuting base metal to gold. Dee's influence began to slide downhill as he tried to understand the secrets of the Universe through angelic spirits and mystic languages. He encountered a Polish prince, Laski, and left England, going to Laski's estate in Poland. Dee went to Prague in 1584, but failed to secure hoped-for patronage from Rudolph. In fact, the Catholic Church there regarded him very suspiciously. For a number of years, until late in 1589, he was a sort of itinerant alchemist and magician around the continent. When Dee finally broke with Kelly and returned to England, he found himself in various unimportant positions. He held the rectorship of Upton-upon-Severn in Worcestershire (1553–1608) and of Long Leadenham in Lincolnshire (1566–1608), as sinecures. Queen Elizabeth granted Dee a pension that he never received. He was warden of Christ's College, Manchester (1592–1605). When James I succeeded Elizabeth, Dee was ostracized. He died in poverty.
Selected References
Deacon, Richard (1968).

John Dee: Scientist, Geographer, Astrologer and Secret Agent to Elizabeth I

. London: Frederich Muller.

Google Scholar

Fell Smith, Charlotte (1909).

John Dee (1527–1608)

. London: Constable.

Google Scholar

French, Peter J. (1972).

John Dee: The World of an Elizabethan Magus

. London: Routledge and Kegan Paul.

Google Scholar
Copyright information
© Springer Science+Business Media New York 2014