CIE Chromatic Adaptation; Comparison of von Kries, CIELAB, CMCCAT97 and CAT02
Reference work entry
DOI:
https://doi.org/
10.1007/978-1-4419-8071-7_321
Definition
According to the CIE International Lighting Vocabulary [1], chromatic adaptation is a visual process whereby approximate compensation is made for changes in the colors of stimuli, especially in the case of changes in illuminants. The effect can be predicted by a chromatic adaptation transform (CAT) which is used to predict the corresponding colors, a pair of color stimuli that have same color appearance when one is seen under one illuminant and the other is seen under the other illuminant.
Overview
CAT is used for many industrial applications. For example, it is highly desired to produce color constant merchandise, i.e., products do not change color appearance across different illuminants. A color inconstancy index named CMCCON02 was proposed by the Colour Measurement Committee (CMC) of the Society of Dyers and Colourists (SDC) [2]. CAT is a key element in the color inconstancy index. It was later become the ISO standard for textile applications [3]. Furthermore, chromatic adaptation is the most important function included in a color appearance model, which is capable of predicting color appearance under different viewing conditions such as illuminants, levels of luminance, background colors, and media (e.g., reflection, transmissive and self-luminous display). The CIE [4] recommended CIECAM02 for the application of the color management systems. For illumination engineering, a CAT is also required for predicting the color rendering properties between a test and a reference illuminant [5].
Various chromatic adaptation transforms have been derived to fit a particular experimental dataset (see later). The workflow for a typical CAT is given in Fig.
1
including three steps: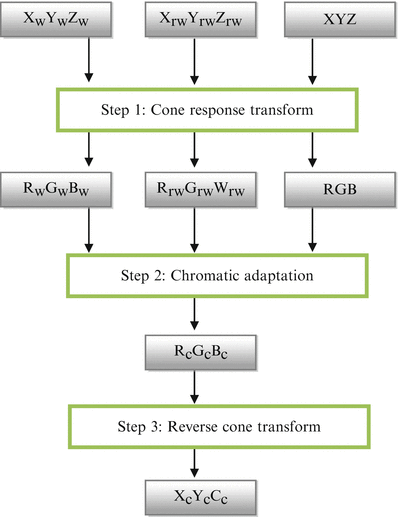 Step 1 Cone response transform

To model the physiological mechanisms of chromatic adaptation, one must express stimuli in terms of cone responses, denoted by R, G, and B or L, M, and S, suggestive of long-wave (red), middle-wave (green), and short-wave (blue) sensitivities, respectively. This is achieved by using a linear transform via a 3 by 3 matrix. Various transform functions have been proposed having different fundamental primaries.

Step 2 Chromatic adaptation mechanism

This step transforms cone responses of the test sample (R, G, B), under the test illuminant, defined by (R w , G w , B w ), into the adapted cone responses (R c , G c , B c ) under the reference illuminant, defined by R rw , G rw , and B rw . The transforms are different between different CATs.

Step 3 Reverse cone transformation

Using the reverse cone transform (an inverse matrix of Step 1) to calculate the corresponding cone responses (R c , G c , B c in Step 2), back to tristimulus values under the reference illuminant.
CIE TC1-52 technical report entitled "A review of chromatic adaptation transformations" [6] gave a comprehensive survey of the transforms and reported the testing results of the state-of-the-art CATs using large accumulation of experimental datasets.
Four of them, the most well known, are introduced below. The notation used in each CAT is different from those used in its original version, but agree with those given in Fig. 1.
Experimental Datasets Investigated by CIE TC1-52
CIE TC1-52 members also collected large number of datasets. These were accumulated using mainly three different psychophysical methods [
13
]: haploscopic matching, memory matching, and magnitude estimation. The former is to ask observers to perform color matching between two viewing fields: say one eye views a stimulus under illuminant A and the other eye views another stimulus under illuminant D65. Memory matching is to ask observers to describe color stimuli using a particular color order system such as Munsell under one illuminant with full adaptation. Prior to the experiment, the observers need to be trained to learn the perceptual attributes such as Munsell value, chroma, and hue. Magnitude estimation is to ask observers to estimate color stimuli in terms of lightness, colorfulness, and hue. Table
1
shows the datasets chosen to be extensively studied by CIE TC1-52.
CIE Chromatic Adaptation; Comparison of von Kries, CIELAB, CMCCAT97 and CAT02, Table 1
List of classical experiments for each technique (Copyright of the Society of Dyers and Colourists)
Viewing field

Experiment

Year

References

Haploscopic matching

Simple

CSAJ

1991

[14]

Complex

Breneman

1987

[15]

Memory matching

Simple

Helson et al.

1952

[7]

Complex

Lam and Rigg

1985

[9]

Braun and Fairchild

1996

[16]

Magnitude estimation

Simple

Kuo and Luo

1995

[17]

Complex

Luo et al.

1991

Luo et al.

1993
Evaluation of CATs
The four CATs introduced earlier were tested using the datasets given in Table
1
from eight sources. In total, 568 corresponding color pairs were gathered. The results are summarized in Table
2
in terms of mean CMC (1:1) Δ
E
units [
22
].
CIE Chromatic Adaptation; Comparison of von Kries, CIELAB, CMCCAT97 and CAT02, Table 2
The performance of chromatic adaptation transforms (Copyright of the Society of Dyers and Colourists)
Datasets/transform

Refer. illum.

Test illum.

No. of pairs

CIELAB

von Kries

CMC

CAT97

CAT02

Group 1: reflective

 
 
 
 
 
 
 

CSAJ-C

D65

A

87

5.0

4.1

3.4

3.4

Helson et al.

C

A

59

6.2

5.1

3.8

3.8

Lam and Rigg

D65

A

58

5.0

5.0

3.4

3.6

Luo et al. (A)

D65

A

43

5.6

5.5

3.9

3.8

Luo et al. (D50)

D65

D50

44

4.8

4.1

4.2

4.2

Luo et al. (WF)

D65

WF

41

4.5

6.1

4.7

4.7

Kuo et al. (A)

D65

A

40

5.6

5.8

3.6

3.5

Kuo et al. (TL84)

D65

F11

41

3.3

3.9

2.8

2.6

Group 1 weighted mean

5.1

4.9

3.7

3.7

Group 2: non-reflective

 
 
 
 
 
 
 

Braun and Fairchild

D65

3000 K 9300 K

66

5.5

5.2

3.7

3.6

Breneman

D65

Various

107

8.2

8.0

5.6

5.5

Group 2 weighted mean

7.2

6.9

4.9

4.8

Overall weighted mean

5.7

5.7

4.0

3.9
It was found [17] that the typical observer variation for studying chromatic adaptation was about 4 CMC (1:1) units. Hence, if a CAT has an error of prediction equal to or less than 4 units, it may be considered to be satisfactory. As shown in Table 2, the most accurate transform for each dataset (the underlined and bold value) is usually less than 4 units except for Luo et al. (WF) dataset. The ten datasets are divided into two groups: reflection and non-reflection samples. The Braun and Fairchild and Breneman datasets are included in the latter group. (Braun and Fairchild data were obtained by comparing between CRT and reflection printed colors, and Breneman data were based on projected transmissive colors.) The weighted mean for each CAT was calculated to represent the performance for each group or overall. The weighted mean was used to take into account the number of corresponding pairs in each dataset.
The results showed that for both data groups, CMCCAT97 and CAT02 outperformed von Kries and CIELAB with a big margin, and the former and the latter two gave similar degree of error of prediction. This implies that the former two and the latter two CATs gave very similar results. This implies that von Kries law alone is insufficient to develop a reliable CAT. The matrix in Step 1 of Fig. 1 is essential for a reliable CAT.
Also, CMCCAT07 was derived by fitting only one dataset, the Lam and Rigg. It also predicts well to the other datasets. This implies that all corresponding datasets agree reasonably well with each other. CAT02 can be considered as an improvement of CMCCAT97 because it is simpler and was developed by fitting all the datasets in Table 2.
Another method to evaluate the performance of CATs is to visualize the color shifts in a color space. The predicted shifts for the four CATs in Table
2
and the corresponding experimental shifts from all data were plotted in CIELAB
a*b*
diagram. The Helson et al. dataset [
7
] was used to illustrate the transformations to CIE C from A illuminant as shown in Fig.
2
. This dataset was chosen because it has been the most widely used and the earlier produced dataset. In Fig.
2
, the point where the two vectors cross and the unmarked end represent experimental results viewed under illuminants A and C, respectively. The " + " symbol represents the predicted chromaticity from one particular transformation. The distance between each corresponding " + " and unmarked end indicates the error of prediction except for CIELAB. For a good agreement between experimental results and a particular transformation, the two vectors should overlap. For perfect agreement between CIELAB and the experimental results, each vector in Fig.
2a
should have a zero length (or a single point). As can be seen in Fig.
2a
, such perfect agreement was not found. However, there is a clear pattern of color shift in each figure. That is, the color shift increases for more colorful colors as
C
ab
*
increases.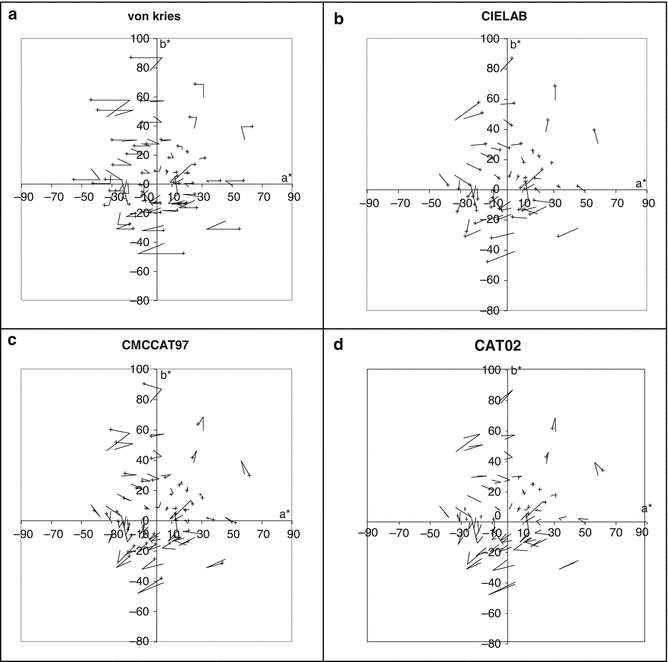 Note that experimental errors would be expected to be random. When a diagram shows a consistent pattern in the errors of prediction of a particular color region, this is most likely to be due to a fault in the transform. See the example of the von Kries diagram at very colorful regions.
Figure 2a–d shows that there are large differences between the four different CATs in terms of predictive color shifts. For the von Kries transform (Fig. 2b), the predictive shifts only move along the a* direction, i.e., red-green shift. Both von Kries and CIELAB gave reasonable predictions for the low chroma colors, but large predictive errors for high chroma colors. CMCCAT97 (Fig. 2c) gave a quite precise prediction for almost all colors with some exceptions in the colorful yellow and blue regions. The prediction of those regions was improved for CAT02 transform (Fig. 2d). It can also be seen that in general, the magnitudes and shifts for CAT02 are very similar to those of CMCCAT97 (see Fig. 2c). This indicates that although CMCCAT97 was derived to fit only the Lam and Rigg dataset, it gave almost the same performance as that CAT02 (see Table 2). This implies that there is great similarity between different datasets.
Future Directions
The CATs, especially CAT02, have been applied successfully in various applications. However, some shortcomings have been identified for some very saturated colors (close to the spectrum locus of the chromaticity diagram). Although these colors are rare in most applications, efforts from the CIE have been made to correct them [23].
Copyright information
© Her Majesty the Queen in Right of United Kingdom 2016