Visual Evoked Potentials
Reference work entry
DOI:
https://doi.org/
10.1007/978-1-4419-8071-7_107
Definition
The visual evoked potential (VEP) is a means of extracting from the spontaneous electrical activity in the brain, electrical changes that are directly related to a specific brain action. It is a means of analyzing the Electroencephalogram (EEG). The event-related information ("signal") is extracted from the overall electrical activity ("noise") by some form of correlation. Usually, repeated samples of EEG are triggered by a particular event (e.g., an abrupt visual change) and averaged together. Because this event causes a particular type of brain response, at a predictable time, the process of averaging these time locked responses accentuates the event-related signal and smoothes out any uncorrelated activity. By using a stimulus that only contains time-locked changes in color, the VEP can provide an indirect measure of color information processing in the brain.
Scalp-Recorded Electrical Signals from the Brain
The brain is constantly generating large amounts of noisy electrical signals, emanating from the vast number of neurones firing at any given time. This ever-changing activity can be recorded by attaching electrodes to the scalp. The spontaneous activity, known as the Electroencephalogram (EEG) (http://www.springerreference.com/docs/html/chapterdbid/116485.html), reflects all the current motor, sensory and cognitive processes. If we wish to study brain activity that is related to a particular function (e.g., hearing or seeing) we can isolate that part of the EEG which occurs in response to specific stimulation by sounds or visual stimuli. In order to elicit such stimulus-related visual response, known as the visual evoked potential (VEP), it is necessary to cause a change in the stimulus, since the evoked potential is actually a measure of a change in electrical activity.
The crudest form of visual stimulus would be an instantaneous flash of light. This is rather like taking a sledgehammer to crack a nut, and is not very well suited to probing specific types of brain function. However it is often used clinically to get some idea of whether there is a gross connection between the eye and the brain, for instance in cases of cortical visual impairment. Patterned stimuli are more frequently employed; typically these are carefully specified repetitive patterns such as checkerboards or gratings. These have to be temporally modulated to elicit a response; usually this takes the form of pattern reversal or pattern onset-offset. Taking the example of a black-white checkerboard, in pattern reversal mode the black and white squares exchange places at fixed intervals, every few hundred milliseconds. In on-off presentation, the checks are replaced periodically by a blank gray screen so that there is no change in space-averaged color or luminance. It is crucial that artifacts are avoided: an overall luminance change between the two phases would itself elicit an evoked response, but this would have no relationship to the spatial content of the stimulus. Figure
1
shows a typical response to a reversing black and white checkerboard; this has a widespread use in clinical ophthalmology and neurology.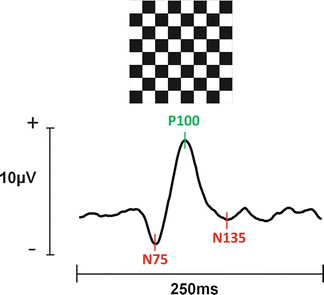 The electrogenesis of the evoked potential is not well understood, but the signals recorded from an electrode placed on the scalp above the occipital (visual) cortex are said to reflect mainly the activity of early visual areas V1 and possibly V2. The signals are recorded using a differential physiological amplifier, which takes the difference between the potential at the "active" site (e.g., the occiput) and a second electrode placed at a nonvisual or "reference" site (e.g., the vertex or an earlobe). In fact, the terms "reference" and "active" are misnomers as it is possible to record some level of visually related activity from anywhere on the scalp. An alternative name for this montage is unipolar. A bipolar electrode montage places both electrodes over the same cortical area, a few cm apart. This generates smaller signals but has the advantage that distant sources of electrical "noise" tend to be of the same magnitude at both electrodes and are therefore not as readily recorded using a differential amplifier.
Chromatic Evoked Potentials
Limitations
There are a few factors which need to be taken into account when recording chromatic evoked potentials. Firstly, these stimuli may be contaminated by luminance information due to chromatic aberrations. The key to avoiding the many complications arising from chromatic aberrations is to use low spatial frequency (<5c/deg) sinusoidal gratings and to restrict the number of cycles visible. There is another good reason to use low spatial frequencies: the chromatic visual system is tuned to these, showing a low-pass tuning curve with a half-height of about 3 c/deg and an upper limit of about 10 c/deg [10]. The issue of stimulus size becomes particularly important when blue–yellow stimuli are used. This is because the central retina contains a higher concentration of yellow macular pigment, meaning that it is not possible to set a single value of isoluminance across the whole stimulus [11, 12]. Isoluminance also varies from subject to subject, even in those with normal color vision, largely because of the high inter-subject variability in the proportion of long-wavelength to medium–wavelength photoreceptors [ Cone Fundamentals]. Thus it is always advisable to establish isoluminance for each subject tested. The presence of color vision deficiencies is also important of course. In extremis, dichromatic individuals lack red-green opponency [ Color Vision, Opponent Theroy], and therefore do not generate red-green chromatic evoked potentials (see Uses, below).
Uses
What benefits do chromatic VEPs bring, aside from giving us a tool to help understand the visual system? VEPs are useful in assessing the vision of preverbal individuals, and several studies have used VEPs to study the development of color vision in infants [13, 14]. There are many potential clinical uses, from the diagnosis of color vision deficiencies to the assessment of drug toxicity [15, 16, 17, 18]. Studies have applied the technique to measure the effect of environmental toxins, which might be expected to preferentially affect the highly sensitive color visual system [ Color Perception and Environmentally Based Impairment]. The chromatic VEP has proven to be of value in neuro-ophthalmology [19, 20, 21, 22, 23, 24], again because diseases such as optic neuritis seem to produce defective color vision. This may not be because the disease specifically targets color vision (for instance via the parvocellular pathway), but because the chromatic system is simply more sensitive to insult or injury, showing their effects more readily than the more robust achromatic visual system.
Copyright information
© Springer Science+Business Media New York 2016