Gas Titration with Solid Electrolytes
Reference work entry
DOI:
https://doi.org/
10.1007/978-1-4419-6996-5_306
Introduction
Definition
The physicochemical principles of the titration of gases with solid electrolytes (SE) are similar to those used in cells with liquid electrolytes. The gaseous reactant (titrant) is added to the analyte (titrand) in form of a gaseous mixture with known amount or flow or alternatively by SE pumping cells dosing primarily oxygen or hydrogen and changing the amount of given species in the titrand according to Faraday's law, also called coulometry. The titration end point can be detected principally with potentiometric, amperometric, or conductometric devices.
History
Early gas titrations based on solid electrolyte devices for end point detection were carried out by Möbius [
1
], using air as the gaseous titrant and a potentiometric cell made of
stabilized zirconia
for the end point detection. The setup is schematically outlined in Fig.
1
.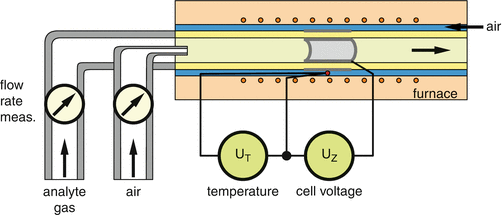 Copyright information
© Springer Science+Business Media New York 2014