Definition
What is Human–Computer Interaction?
Human–Computer Interaction (HCI) is generally known as the study of the interface between humans and computers. It typically involves humans (the human computer user), the machine (computer), and the way they work together. It is concerned with all aspects of the design and use of computers. Research in HCI is concerned with obtaining a better understanding of how computers can be designed and used efficiently and effectively. The research aims to lead to information of principles, guidelines, methods, and tools to improve the design of good interactive computer systems.
The number of different types of interface available today has increased steadily over the last few years. In respect of the type of interface, the product must support the users in their tasks. The interfaces must be designed for interaction.
Some authors have gone a...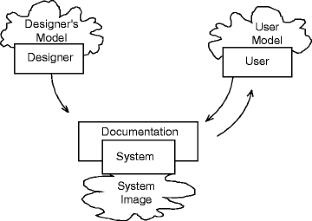 References
IBM (1998). The user's conceptual model. Fundamentals/UI Models. http://www.ibm.com/ibm/easy/design/lower/010502.html. Accessed 21 Oct 2008.

Preece, J., Rogers, Y., & Sharp, H. (2007). Interaction design: Beyond human-computer interaction (2nd ed.). Chichester: Wiley. ISBN 978-0-470-01866-8.

Redmond-Pyle, D., & Moore, A. (1995). Graphical user interface design and evaluation (GUIDE): a practical process. New York: Prentice Hall.

Stoney, S., & Wild, M. (1998). Motivation and interface design: Maximising learning opportunities. Journal of Computer Assisted Learning, 14, 40–50.

Tzvetanova, S. (2007). Emotional interface methodology. IASDR 07. International association of societies of design research, The Hong Kong Polytechnic University, November 12th–15th.

Uden, L. (2004). Editorial. International Journal of Learning Technology, 1(1), 1–15.
Copyright information
© 2012 Springer Science+Business Media, LLC
About this entry
Cite this entry
Uden, L. (2012). Human–Computer Interaction and Learning. In: Seel, N.M. (eds) Encyclopedia of the Sciences of Learning. Springer, Boston, MA. https://doi.org/10.1007/978-1-4419-1428-6_363
DOI: https://doi.org/10.1007/978-1-4419-1428-6_363

Publisher Name: Springer, Boston, MA

Print ISBN: 978-1-4419-1427-9

Online ISBN: 978-1-4419-1428-6