Alaska Gas Hydrate Research and Field Studies
Reference work entry
DOI:
https://doi.org/
10.1007/978-1-4419-0851-3_434
Definition of the Subject
Gas Hydrates
Natural gas hydrates are solid, crystalline, ice-like materials made up of small molecules of gases, mainly methane confined inside cages of water molecules. These gas hydrates are solid solutions and are formed when water molecules linked by hydrogen bonding create cavities (host) that enclose a variety of molecules (guest). These molecules can be CH
4
, C
2
H
6
, and CO
2
to name a few. It is interesting to note that there is no chemical bonding between the host water molecule and the caged molecule. Hydrates can form under high pressures or low temperatures, which are generally the conditions that exist in the Arctic or under deep ocean beds. Huge volumes of gas hydrates are expected to exist at various locations around the globe (Fig.
3
). It is known that 1 m
3
of hydrates upon dissociation release about 180 std m
3
of gas, making them a huge potential as a future energy resource [
3
,
4
].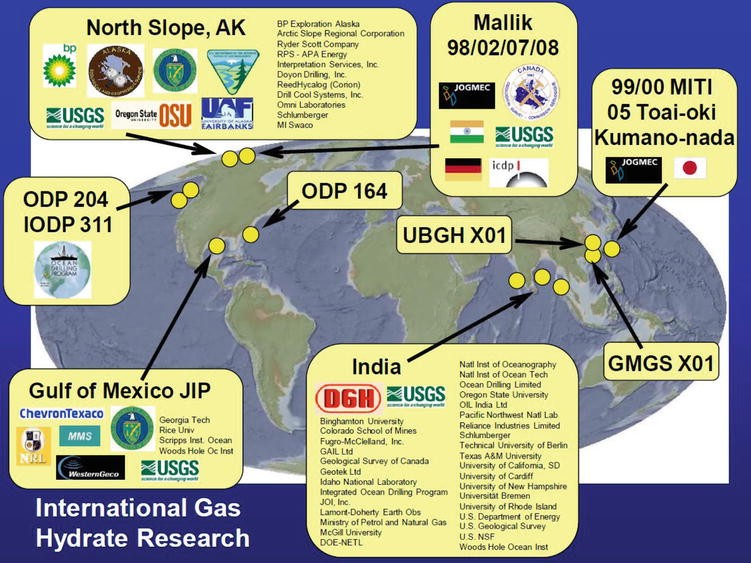 Notes
Acknowledgment
The authors are grateful to the US Department of Energy (USDOE), BP Exploration (Alaska) Inc., North Slope Borough (NSB), Petrotechnical Resources of Alaska (PRA), and Petroleum Development Laboratory (PDL) at UAF for their financial support in accomplishing this work. The authors would also like to thank Dr. Tim Collet (USGS), Mr. Robert Hunter (ASRC Energy Services), Mr. Tom Walsh (Petrotechnical Resources Alaska, Inc.), and graduate students Praveen Singh, Andrew Johnson, Paul Hanson, and Vivek Peraser for their contribution, support, and help when needed.
Copyright information
© Springer Science+Business Media, LLC 2012